by Ben Daniels (Admin) on Mar.15, 2014, under Brutal Tops
Elliot can't even begin to suspect all the things that he's going to experience in just a few minutes time. His Master Toby, who is sadistic and utterly cruel, intends to punish his sub boy so harshly that the pathetic sub will remember it for the rest of his miserable life. Of course, the pathetic sub loves being treated in this way.
Master Toby orders the boy to strip down his clothes and kiss and worship his masculine body from head to toe. The sub is being told that he's now allowed to take off Master Toby's boots and pants. Master Toby then pushes his big cock into the sub's mouth and forces him to lick and kiss it. He also orders the boy to worship his balls.
Now, Master Toby hasn't taken a shower in some time, and considering the fact that he's been pretty active physically, his body has that characteristic sweaty smell.
The sub is then unceremoniously put into the lying position so that Toby can crouch and shove his ass deep into the sub's face. The poor boy is forced to lick Master's ass clean and be thankful for this.
Finally, the sub has deserved to be fed with Master's cock. The Master shoves his big dick into his mouth and face fucks him as if the boy hasn't done his previous tasks properly.
Preview video:


Download this one and many other horny new BDSM videos at BrutalTops!
Brutal Tops is a fantastic site for lovers of the most ferocious sexually aggressive doms in the world. These dominant men love to give orders which have to be obeyed!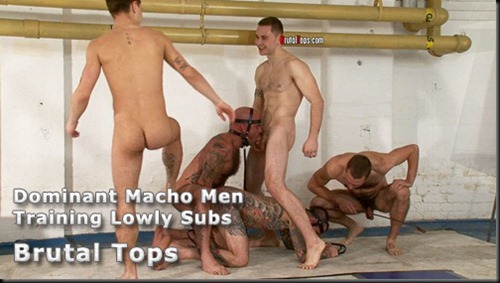 :big cock, eating ass, Elliot, forced blowjob, humiliation, licking ass, licking balls, Master Toby, sweaty