by Ben Daniels (Admin) on May.21, 2013, under BreederFuckers
Young heterosexual guy Martin got himself in great trouble. His girlfriend thought her boyfriend should get some training so that he behaves less aggressively and like a complete prick towards her, so she put him in this correctional facility where tough masters do whatever it takes to break young violent straight men.
Master Dave tied Martin up and put shackles on his ankles so he can't move much. Master Dave plays with his cock, which causes it to grow and get all hard despite Martin's wish not to yield to the provocation.
Little by little a horrible truth sets in Martin's brain – that he is actually turned on by this BDSM shit. How can it be? The brutal Master whips him and tortures his cock but all this has caused only one result – he got rock hard and can't lose his erection even if he wants to.
Now it becomes clear that this odd mixture of pain and pleasure is the secret ingredient that is the biggest turn on for Martin. He thinks to himself "If I only survive this ordeal, I will become a harsh brutal Master like this guy. I want to beat the shit out of poor unmanly bottom guys."
The pinnacle of today's session is when Master Dave delivers a really hard spanking and puts a strong vibrator on Martin's cockhead. This caused an almost immediate release of Martin's semen in several strong squirts.
Preview video:


Check out the newest videos with arrogant straight men being turned into obedient cocksuckers at Breeder Fuckers!
If you prefer your porn to be on the kinkier side, you should definitely check out Breeder Fuckers (formerly known as Straight Hell). Breeder Fuckers is a premium fetish site devoted to hot straight guys being tormented, humiliated and treated without mercy by big, mean & aggressive studs!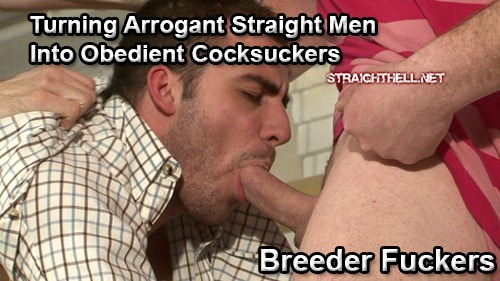 :BDSM, beating, dildo, domination, Fingering Ass, forced cumming, forced erection, gagged, humiliation, Martin, shackled, straight guys, tied up, Whipping