by Ben Daniels (Admin) on May.20, 2014, under SpunkWorthy
As you probably already know the economic situation isn't great and there are some guys who are going through the tough times. Of course, the easiest way to make some fast cash to to come over to our place and jack off. It's a win-win situation really – the guys love jerking off anyway and they can also earn some cash, and our viewers get to watch them in all their masculine glory. Sometimes, these guys don't have money as their primary motivation, but the fact that they don't have enough privacy because they constantly live with their roommates. They use the opportunity to empty their balls of long, pent up load that's been brewing there for far too long, and again we get to watch them.
So here at Spunkworthy we decided to make something different – from time to time we're going to have a simple jerkoff session with one of the guys who wants to do it for some of the reasons already mentioned. It will be bonus updates and they won't be replacing the regular updates we make for you. The whole scenario is quite simple really – we give the guy some pussy porn to jerk off, and let's watch them what they would do when alone anyway.
The first guy to apply for this was an old friend of ours – Gene! We haven't heard from him in ages and were really happy when he called us again. If you want, you can check out some of his earlier updates here. He just suddenly appeared out of thin air, looking better than ever, with nicely toned, fit body! He is now 27, still has his dreamy blue eyes, and that sizeable thick 7 1/2 inch cock. He said he was nearby and wanted to drop by for a quick whackoff. Well, glad you asked Gene, relax and make yourself at home.
When we mentioned our new idea about quick jerkoff vids, he was delighted and wanted to be the first to try it out. At first he slowly strokes his big, thick and stiff cock, working it from the base up to the head. Sometime later he lubes up one of his fingers and starts playing with his arsehole while still jacking off with the other hand. That must have felt amazingly good, and I suspected he would blow his load right there and then, but he managed to withhold the cumshot for several more minutes. Evenutally, Gene shoots his powerful load and sprays his jizz all over his six pack abs making a complete mess. Damn!
Preview video:


Click here to watch and download his entire video in HD quality at SpunkWorthy!
SpunkWorthy is a great porn site that features younger straight amateur dudes. Lots of truly straight military guys doing gay for pay only once or a few times! This site is usually the first and only place where you'll see these bad boys, so don't miss out!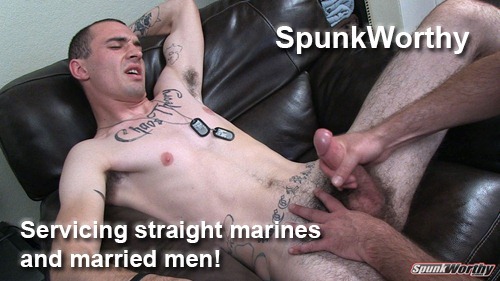 :big cock, big cumshot, Fingering Ass, Gene, jerking off, lube, masculine, muscled, straight men, thick cock