by Ben Daniels (Admin) on Jun.20, 2014, under Chaosmen
Cooper was supposed to make a complete fuck video for us, but unfortunately his flight got delayed the next day and we had to find some alternatives. The guys that work for us usually shoot their own video first, then the next morning we shoot our sex video with them. Bryan usually takes them from their hotel to the gym, then we have lunch and he drives them to the airport. Knowing about possible delays, we made some extra plans and we hoped to make a solo peep video.
When Cooper first came to our studio, he already had some of his own videos and so we didn't make the solo or oral scenes that most guys go through before shooting their first sex video. We made some hot solo photos in the studio but no videos. Cooper sent me some of his self-made videos but they were not filmed with an HD camera so they were unusable for the site.
I had an idea, though, a great idea as it would turn out to be. I took him to a friend's farm. It's a very nice place in the woods. My friend has a lot of small buildings and some private space, so we had the opportunity to make some really fine photos outdoors – a rarity in porn, you'll probably agree. Cooper rightfully noted that this could also be considered an opportunity to make "artsy yet porny" photos and he had that in mind while the video and photos were being shot. He doubled his time in the gym because he wanted to make himself extra-ripped just for the occasion.
Copper has a great body, but one can't help noticing his deep blue eyes! I mean, just take a good look at his face, his eyes literally pop out at you.
The video itself is a rather fast jerkoff video in the woods. There were many uninvited guests in the form of mosquitos, gnats and other critters, but Cooper was undeterred from his jerkoff task. I must admit I like Cooper, even personally, and he knows that. It's not just his body, he's a pretty smart and grounded guy, and a great fun to talk with. Due to his difficult flight schedules we spend a lot of time together, while he's waiting for his flight, so we had more time to get to know each other.
As far as his sexual orientation is concerned, Cooper claims that he's mostly straight. As for the guys, he says that he can get into the whole "muscle worship thing" without any problems. He also adds that more mature guys have more appeal for him than younger dudes. Amazingly, Cooper has an identical twin brother, but sadly his brother doesn't want to shoot any porn videos with Cooper, so that's out of the question. It's also interesting that he says he isn't attracted to guys who look like himself (young muscular college jocks types). He says there are a few guys in the "real world" that he finds attractive, but their physical appearance is quite different from his.
Since he served in the army as a marine, he tends to value personal character traits such as stability, maturity – and the best part is that the guy's body doesn't have to be perfect at all. As you can see, our predominantly straight friend has quite a different set of values for preferred guys than most young gay dudes have.
So if you think you would be rejected outright due to your less than perfect body, you would be wrong. Cooper wants to see something else in a man, not a perfect body. The same holds true for his preferences as far as the girls are concerned: he wants to find a girl that would have brains and he won't mind even some "little extra" fat. This tells you that Cooper is defo a guy who is not shallow. It seems that Bryan (the Chaosmen owner) will make a video with Cooper, because there's an undeniable attraction between the two.
Preview video:


Click here to watch their entire bareback video in HD quality at Chaosmen!
Chaosmen is a great porn site that features hot straight and bi men getting serviced or fucking their mates bareback for some cash. This site is exceptional and very unique because almost every single fucking is bareback and ends with a gorgeous internal cumshot or creampie.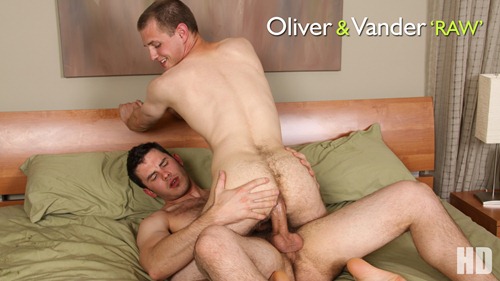 :big cock, blue eyes, Cooper Reed, cum eating, cumshot, jerking off, muscles, nature, Outdoor, ripped, tattoos, uncut cock, woods