by Ben Daniels (Admin) on Jan.18, 2014, under CFNM
We continue our story about two hot buddies, Ryan and Shamus, that we started a few days ago.
Ryan and Shamus went to a nearby gym to work out, while Shamus' girlfriend Hazel and her friends Natalie and Melanie went to a nearby bar for a quick round of gossip over a bottle of white wine.
The guys are boasting about their sex adventures and past women… all those girls that they fucked and about whom their present girlfriends have no idea about. Meanwhile, Shamus' girlfriend sneaks up to the guy and secretly listens to their loud bragging and macho talk. She enters the shower and starts examining the guys what all that shit was about.
She orders the men to come back with her to the bar so that she and her friends can further examine the guys – naked. She is pissed off and won't take no for an answer. Furthermore, the guys owe the girls a naked show to make up for all the nerve-wracking they caused them with their insensitive boastful talk.
Click here to watch their whole video in HD quality at CFNM (Clothed Female/Nude Male)!
Clothed Female Naked Male (CFNM) is a very hot site for lovers of truly straight guys. It's a little tongue in cheek but the men are fuckingly hot!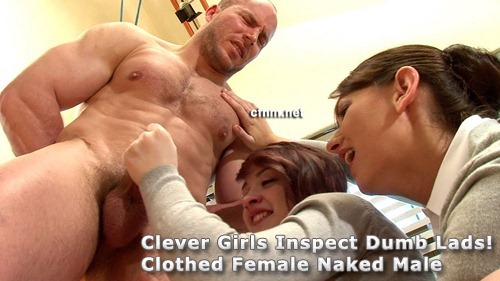 :Girls Inspecting Boys, gym outfit, Ryan, Shamus, shower scene, sneakers, sweatpants