by Ben Daniels (Admin) on Jul.03, 2014, under TheCastingRoom
Kasper is one of those generous, tolerant, straight lads that would like to use their straight charm to make some easy money fast. He knew that if he agreed to have gay sex with other men he would quickly earn a nice additional income.
For someone who had never even seen, much less kept another man's cock in his mouth, it is quite encouraging when we see such a man boldly swallowing a big cock in front of them and instinctively getting down to sucking. He seems to have an idea on how a cock should be sucked, but he's willing to learn more and become a much more proficient cocksucker. For now, he seems to keep forgetting that teeth should not be used during a cocksucking session, but let's give him some more time to improve his knowledge. After all, we've all been such amateurs at one point in time.
Kasper's ass is so tight that we had to use two buttplugs to make it a bit more relaxed, because we know that Master Dave's cock is of considerable size and girth. When Dave starts rimming Kasper, the poor straight lad looks totally confused, as if wondering what's just been happening to him. It's a feeling which is quite new for this naïve hetero lad.
Actually, in all reality he should be thankful for all the preparations that we've undertaken because we really weren't sure how he would take Dave's huge cock. Will he be shocked? We were eager to find out. Dave puts on some lube onto Kasper's arsehole and shoves it deep inside Kasper's hole. Kasper almost hit Dave wheh he started feeling that stiff prick penetrating his nether regions. However, he decided to take it like a man, and clenches his teeth trying to withstand the intense feelings of just having been deflowered.
Dave doesn't mind about Kasper's feeling snd just pounds away his ass really hard. It was a very intense and aggressive fucking and it was Kasper's very first gay sex experience. Kasper also wanted to demonstrate that he's not just a passive actor but wants to participate in the making of our video by performing natural acts. He quickly drops to his knees and offers his pretty face as a cumdump for Dave's copious ejaculation. After Dave has plastered Dave's jizz he tries to swallows as much he can and licks Dave's cock some more to collect all the remaining drops. Towards the end he wants to reciprocate and eats Dave's ass for some time.
At long last Master Dave allows Kasper to cum. Kasper strokes his cock faster and eventually shoots his load. At the end he is totally sweaty and has one more experience in his life.
Click here to watch their entire casting video in HD quality at
The Casting Room!
The Casting Room (formerly known as First Auditions) is a great, original porn site that showcases young, cocky straight men who would like to become porn stars and make loads of cash. They think that they'll be accepted right away and be able to fuck lots of girls, but they don't know that our casting director is very strict and wants to fully inspect them during the audition. He orders them to get fully naked, show their ass, and jerk off so that we can clearly see the cumshot. Plus, we get to hear all their fetishes and what turns them on.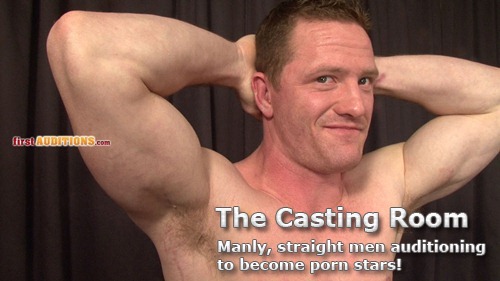 :bareback fucking, big cock, blowjob, facial cumshot, first time anal sex, Kasper, Master Dave, rimming, straight men