by Ben Daniels (Admin) on Jul.09, 2014, under CMNM
Billy and Bobby are two very naughty and pervy boys. They rendered the real doctor unconscious and took his place pretending to be doctors. Young beefy man Paul comes for his regular medical check-up and finds the two boys instead of his regular doctor. Not suspecting anything, Paul obeys all of their orders, including the request to get completely naked.
When his underwear is gone as well, Paul starts to suspect that things are not as they should be, and becomes vocal. This big masculine dude is now confused as to what's happening and starts doubting the good intentions of the two young doctors. The boys are relentless and insist that Paul shows them his cock and balls so they could inspect them. The boys are measuring Paul's cock's size and weighing his balls with their hands. The boys are also questioning Paul as if he were in the police station, which reveals a lot about this self-conceited straight man. Paul is not turned on by the fake doctors and his cock remains limp, but the boys have a secret plan… to be continued.
Check out these pervy men's wanton adventures in their whole videos in HD quality at CMNM.
Clothed Male / Naked Male (CMNM) is a superhot porn site where Nervous straight guys get stripped naked, groped and violated by fully clothed men.
There's nothing better than stripping straight lads completely nude, putting their bodies on display, and teaching them exactly how to submit! When they are in such a submissive position, one would be crazy not to use the opportunity and jerk them off!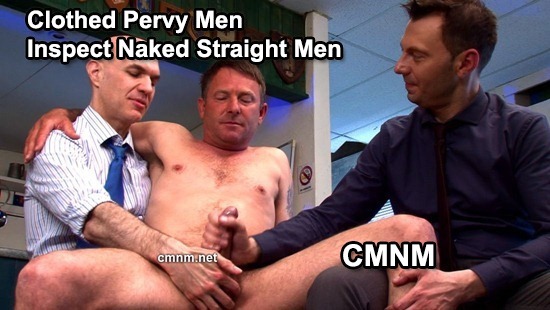 :beefy, Billy, bobby, doctors, inspected, measuring cock, Paul, straight men, weighing balls