by Ben Daniels (Admin) on Jul.21, 2019, under CMNM
Marc is a smooth and elegant businessman who was a little bit too adventurous when it comes to betting with company funds, and now when the bosses have learned what has happened, they are pissed off!
The angry bosses decide that to just fire him and sue him would be too mild a punishment for such an offence. Something more drastic is required. Being pervy men that they are, they tell Marc to undress and show them the goodies. They just want to use him for their entertainment.
Marc realizes that the sudden turn of events is not in his favor and that these pervy men intend to keep humiliating him, but he has no other option if he wants to avoid jail. He agrees to perform for them as if he were a nude male dancer. But his troubles are far from over, as this is just the beginning…
Check out these pervy men's wanton adventures in their whole videos in HD quality at CMNM.
Clothed Male / Naked Male (CMNM) is a hot porn site where Nervous straight guys get stripped naked, groped and violated by fully clothed men.
There's nothing better than stripping straight lads completely nude, putting their bodies on display, and teaching them exactly how to submit! When they are in such a submissive position, one would be crazy not to use the opportunity and jerk them off.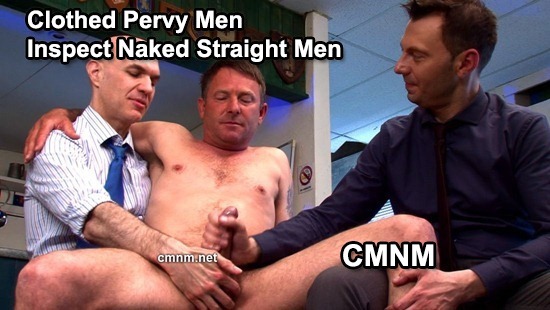 :businessman, clothed male naked male, fit body, handsome, inspected, Marc, office suit, pervy men, showing ass, straight men, suit and tie