by Ben Daniels (Admin) on Aug.30, 2016, under CMNM
Hot straight footballer Connor can't believe that he found himself in such a predicament when his team owners started to demand that he gets naked and let them take measurements of his body (you can read the first part here). These men want to find out every little detail about his body, and Adrian even measures the depth of Connor's anus. Adrian knows how that's being done, though, as he has plenty of experience. He spreads Connor's butt cheeks and pushes his finger into the hole. Connor wants to take it all easy and looks at these pervy men with blind innocence. But the pervy men want to get their measurements and nothing will stop them now. Adrian assures Connor that everything will be fine once the measurements are taken, and that all this will have a very positive impact on his football career.
As these guys are touching Connor's private parts, Connor's cock spontaneously grows to its full size, to the complete and utter shock of its owner! Now the men can measure its erect size as well…
Check out these pervy men's wanton adventures in their whole videos in HD quality at CMNM.
Clothed Male / Naked Male (CMNM) is a hot porn site where Nervous straight guys get stripped naked, groped and violated by fully clothed men.
There's nothing better than stripping straight lads completely nude, putting their bodies on display, and teaching them exactly how to submit! When they are in such a submissive position, one would be crazy not to use the opportunity and jerk them off.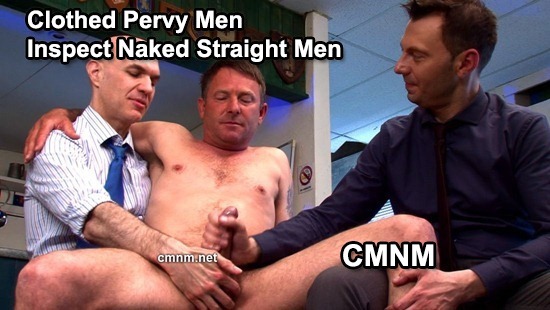 :clothed male naked male, Connor, Fingering Ass, footballer, inspected, measuring cock, muscled, pervy men, spontaneous erection