by Ben Daniels (Admin) on Aug.14, 2014, under Chaosmen
We've already seen young ripped straight dude Sterling in his solo video (you can see the preview here). Sterling told us that, although he's straight, he had one awkward experience with a guy many years ago but he's pretty much green as far as gay encounters are concerned. He is still determined to try something sexual with a guy, but considering the fact that he's straight we all know that he has to take only small steps, one at a time. The first logical step would be, of course, a blowjob. And who can better instruct a new straight guy about the ins and outs of cocksucking than ever horny Jet.
Sterling wasn't sure about him giving the head, so I told him that it's up to him to decide whether he wants to try that as well or not. I told him that he should do it only if he felt it would be an OK thing to do.
We find Sterling and Jet sitting on the sofa side by side and they're watching a porno. While Jet is already hard as rock from the get go, Sterling is still somewhat disoriented and nervous. Luckily, Jet leads the way and is willing to show Sterling the ropes. When Jet took Sterling's cock in his mouth, it began to grow and soon filled Jet's mouth completely. Jet is bent on swallowing Sterling's entire shaft, and he successfully deepthroats it. Although Jet is amazingly skillful when it comes to receiving a huge cock in his arse, swallowing cocks of the same size presented a problem for him – until recently. Jet was determined to learn the art of deepthraoting, and boy, did he learn it.
Jet and Sterling rub their cocks against each other, and this was an especially hot part of this video because they both have really nice cocks. It seems that when Sterling put Jet's cock in his mouth he became much more turned on than until that moment. From that moment onwards, Sterling didn't need to manually jack off his cock in order to remain hard… he remained hard throughout the shoot.
The guys switch to the 69 position and then Jet felt an urge to rim Sterling's virgin hairy asshole a little.
Eventually, Jet lies down on the couch and is awaiting for a facial cumshot coming from Sterling's hard cock. All the time Jet is slowly edging his cock because he has been on the verge of cumming all the time. Since it took some hard stroking for Sterling to cum, Sterling became drenched in sweat, and when a few drops of his sweat fell onto Jet's body that was enough to push him over the edge and Jet shot his wad first. I'm not kidding ya, that's how Jet explained it – Sterling's sweat made him cum!
And Sterling was pushed over the  edge by having watched Jet bust his not – so both guys effectively helped each other to shoot their loads. Sterling shot his load straight into Jet's open mouth and filled it with his warm cum. It seems Sterling really liked the fact that he made Jet bust his nut so he is now more optimistic about experimenting with boys.
I surely hope we'll be seeing much more of Sterling in the days and months to come… and why not pair him again with Jet for a hot sexy fuck scene?
Preview video:
Click here to watch their entire blowjob video in HD quality at Chaosmen!
Chaosmen is a great porn site that features hot straight and bi men getting serviced or fucking their mates bareback for some cash. This site is exceptional and very unique because almost every single fucking is bareback and ends with a gorgeous internal cumshot or creampie.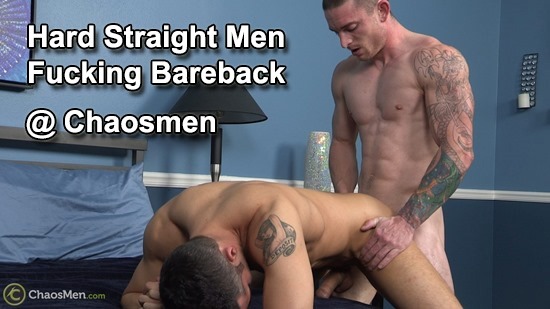 :blowjob, experimenting with guys, facial cumshot, Jet, muscled, rimming, ripped, Serviced, shaved head, smooth chest, Sterling, straight men, tattoos