It is almost the end of the summer, and what better way to celebrate this than to take a closer look at these two filthy Farm Boys!
Horse Hung Island Farmer Raine is back to show off some more of his amazing 10.5-inch tool, and this time round he came with his good buddy and real-life roommate Kiefer! Kiefer is a young ginger bearded Farmer Boy, as well.
The two studs accepted the challenge – how good can you be in swapping blowjobs with your best mate? But before they got to the blowjobs, these two rascals had some great fun in the pool, while floating on rafts: skinny dipping, hugging, kissing, pissing and eventually stroking their cocks together, side by side.
Raine's 10.5-inch monster cock looks amazing while he swims underwater, which was all caught on the special underwater sports cam! We can also watch all the antics and banter that goes on between Raine and Kiefer in the pool.
The shots caught on this cam are so clear and reveal these boys' smooth muscular thighs while they swim underwater completely naked. The highlights are Raine's long dong and Kiefer's boy balls floating up underwater as they swim, play and pose together. Their butts are also caught on close-up shots, and then the boys spread their ass-cheeks to reveal those virgin ass cracks. It's really an outrageous duo with these two horny farmers while they fool around and crack jokes together.
This is actually the second time that these two mates made a video for Islandstuds together. They are definitely not shy to show off all the goodies that they have. Raine is already well-known in Hawaii for his huge cock (the news spread pretty fast after his first appearance on Islandstuds!). After all, a 10.5-inch cock and massive hairy balls demand respect!
Cute Ginger Kiefer has done two videos for Islandstuds earlier, so this is his 3rd time. His rich and shaggy head hair looks great, especially in conjunction with his thick dark red beard.
After having had quite a bit of fun with skinny dipping, our two studs sit side by side on a small sofa and begin to compare their cocks and to exchange blowjobs!
This was the first time that they shot their loads together. That messy and sweaty cocksucking session is a must-see! They keep joking around even with their mouths full of hard cock and each other's precum!
Inexperienced Kiefer found it quite challenging to swallow Raine's entire monster cock, whereas Raine managed to eagerly swallow Kiefer's entire cock in the first attempt!
Both guys were very noisy when they came. They moaned loudly as their cocks sprayed massive amounts of warm jizz!
Once they shot their loads, it was time to head straight into the shower. This was an especially interesting part of the video. Both guys' cocks still dripping cum, they take an ourdoor shower side by side. The boys kept one more surprise for the end – they both take a pee together while standing naked and facing each other over the fire pit. This part was captured not on video camera but on HD photography. Two firm streams of piss blast out of their still erect dicks while they stand there fully naked.
Preview video: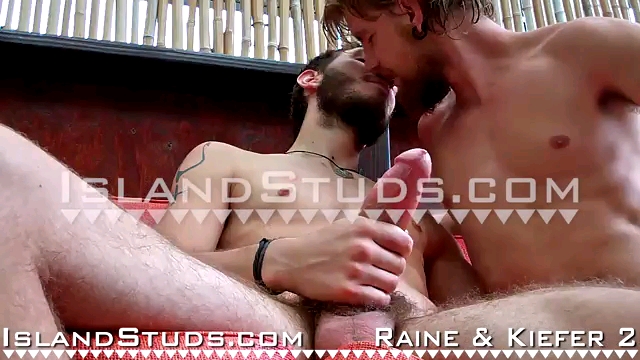 Click here to watch their entire movie in HD quality at Island Studs!
Island Studs is a great, new, and refreshing porn site that features hot guys from Hawaii. These bad boys have no problem with showing off their beautiful, toned body and hard cock. Watch them as they do their usual chores against the stunning backdrop of Hawaiian nature!