by Ben Daniels (Admin) on Aug.22, 2014, under Men of Montreal
Derek Thibeau (Thibeau is pronounced as Tee bow) is hot, muscled MMA fighter. He is 6'3" tall (190 cm) and weighs 95 kg. He heard that hunky masculine guys like him can earn some quick cash by posing for this site and decided to give it a shot. Derek is 28 years old and he thinks he's straight but curious. He'd like to find out more about man on man sex and relationships. You might think that this tall ripped stud is an arrogant intimidating bastard, but he's actually one of the kindest and most charming easy-going men we've ever filmed. He's truly a "gentle giant".
However, don't take his kindness as a sign of weakness. When he is out there fighting with other men, he becomes a raging wild beast who cannot be stopped. You certainly don't want to mess with him in that way (unless you're an MMA fighter yourself, of course). Derek also works his daily job as a construction worker and he comes from Montreal. He just showed up one early morning, happy but exhausted from the previous night when he banged some girl he had just found.
His cock wasn't either tired or exhausted, because it quickly became hard and upright! Derek loves to show off his perfect muscular body full of inked patterns. His shaved head gives him an additional macho appeal, and those eyes can be really disarming when he intently stares at you. Derek complains that he's been out of shape lately because it was hard to go to the gym from all the busy work he had at his main job. He slaked for only two weeks, though, so it's not a biggie. He intends to get back into full fighting mode later this fall and kick some ass.
Derek is very mobile and gives us some great views of his body from all sides. He never leaves his big upright dick alone and constantly strokes it one way or another. He even played a little bit with his arse hole, but not as much as we would have liked. I could tell that he was edging himself all the time because he constantly seemed to be on the verge of cumming.
Even though he fucked a chick a mere half a day ago, he shot a huge load and made quite a mess.
I wonder what is Derek's favorite sex position… and whether he'd like to experiment with guys. Soon we shall find out!
Preview video:


Click here to watch his entire video in HD quality at Men of Montreal!
Marko Lebeau is a gay porn star from Montreal. He noticed that there is a big demand for men from Montreal in the USA and other countries, so he decided to make this new reality-based porn site which primarily features new male models and local male strippers in and around Montréal. Many new and exciting hot men can be found here, so if you're bored with other sites you can give this one a try!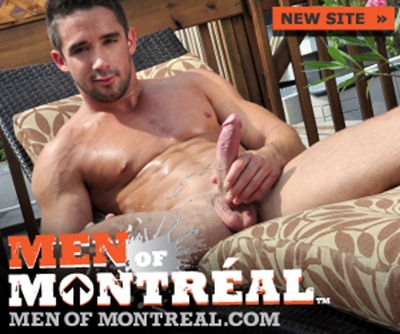 :bicurious men, big cock, cumshot, Derek Thibeau, facial hair, handsome, jerking off, MMA fighter, shaved head, stroking dick, tattoos, thick cock