We're delighted to see Big Dick Dakota again! He's back with his new buddy, Ripped Redhead Robert. These two naughty boys had lots of fun and enjoyed showing off their goodies for their fans in this new video from Islandstuds. Both guys have pretty muscular and hard bodies, but they are different as well. Red Robert's body is covered with just the right amount of ginger fur, including his chest, and he sports a 8-pack set of abs. His bush is fully natural, and of course ginger colored, which is the perfect covering for his big fat belly slapper and large low-handing balls! This Nebraska farm-boy also sports an almost creamy-white butt, which is a joy to watch while he's strutting his stuff.
His buddy Dakota is an old friend of ours. We love his cocky macho attitude, nicely toned Carpenter/Mechanic-type of body, and of course his infamous 8-inch fat monster cock! He got along very well with his new buddy and they had lots of fun showing off their big erect cocks while working various chores in the garden. The guys love to flex their muscles and pose in their tight blue underwear before discarding all clothes and getting totally cocky about their big throbbing dicks! And for a reason – these boys are definitely among the very best when it comes to big dongs. There's a sense of camaraderie between them, and they often hug each other naked, with their cocks fully erect. Of course, men being men there's no chance that they wouldn't try to compare their cocks. While they stroked their dicks together, there was quite a bit of comparing going on. Red Robert has a short but fat shaft, hairy ball sack and lots of bright ginger man bush, whereas Dakota sports his big and luxurious 8-inch Monster Cock while they're fooling around together naked.
The boys couldn't resist showing off their hairy assholes while they were working up a sweat harvesting bananas. They would bend over time and again, picking up the debris. Then, the boys take a powerful piss in the shower together, sit side by side proudly showing off their gorgeous erect dicks, and flexing their fantastic powerful biceps. They stroke their cocks together, and after some time there's a powerful explosion of Jizz! After they dump their loads, the guys walk around with their bouncing dicks from which the cum still drips to the ground, and head to the outdoor shower to clean up.
Big Dick Dakota has done 4 videos before this one, and they are still all available in the Members Area of that site. It is no exaggeration to say that Dakota is pretty famous for his huge dick in all of Hawaii, and of course on Islandstuds. Everyone respects a big All-American Daddy Dick, and Dakota fits in this description very well. In one of his previously released solo videos, Dakota stroked his 8-inch dick against the side of a truck while he worked on the engine… and he had a boner throughout the entire scene. He tossed the pigskin, balls out with his buddy Jeffrey in the popular Island Studs Series – Football Nude #13. His buddy Newbie Robert looks like a typical Mid-West Farmer, covered in tattoos all the way up to the shaggy red hair. This is the very first time for Robert to appear naked in front of the camera. These two really get along so well together while they're sharing many personal and private stories with us. Nothing beats the sight of two blue-collar guys working together naked! Both guys admit on camera that they have never jerked off together with a buddy – until today. This comes as a bit of surprise because they are both sexually open-minded and like to experiment. But there's a first time for everything!
We also liked the precious moment when these two studs are standing side by side, balls and cock out naked, and talking about their tattoos and their life in Hawaii. Robert was eager to explain the meaning of some of his many tattoos. Dakota confesses in front of the camera that he is "pee shy", meaning he can't piss while the other people are watching. And despite this, he has no issue with fucking girls in front of other people!
At the present moment, Dakota is 28 years old, his height is 5'9" (175 cm), and he weighs in at 150 lbs (68 kg). During daytime he works as a Carpenter, installing Kitchen and Bathroom cabinets. After work he usually works on his many cars. Red Robert is also 28 years old, his height is 5'7" (170 cm) and he weighs in at 164 lbs (75 kg), which gives him a stocky appearance. He has recently come to Hawaii, after having worked construction with his Dad and brother. Now on Hawaii he works on an Organic Farm. The Islandstuds director decided to put these two blue-collar workers to work together in the infamous "Naked Worker" series. Their main job was to roll up weeds under the giant avocado tree and to trim and harvest a full rack of bananas. They were given only garden gloves and work shoes, but essentially they were naked.
As you might expect, the sight of two naked blue-collar workers sweating and working together can hardly leave you indifferent. They often bend over to collect the piles of debris, and their smooth ass cheeks reveal their precious man holes. Robert decides to put on a show and, let me tell you this, he doesn't mind showing off that big white ass as he works. Ass lovers will definitely cherish this video for a long time – there are so many great shots of these guys' open asses, with their heavy ball sacks dangling between their strong thighs as they work. They often get full boners and then they get cocky – flexing their muscles, showing off those big biceps in all their powerful glory, then hugging each other while their cocks keep throbbing.
Once the work is done, the guys head to the shower to wash off the dirt from their soiled bodies. Then it's time for the mutual jerkoff session! This was the very first time for them both to participate in something like this. There's a lot of comparing their cocks, as we've already mentioned. The sweaty cock stroking session is something that needs to be seen by any connoisseur of big cocks and mutual jerking off! The guys keep cracking jokes and playing with each other while they're wanking their dicks. Both guys are capable of huge cumshots, as we will soon discover! That was a fantastic spectacle – to see two hot guys shooting big loads, one after another. Dakota is a "silent cummer" – he shoots his cum in squirts, one following another, until his body is completely splattered with jizz. His squirts are strong and forceful, some of them reach all over to his neck and shoulders! Damn, that was a really intense cumshot!
On the other hand, Red Robert tends to moan loudly and then suddenly shoots a thick wad of jizz all over his furry abs, while thick gobs of jizz keep oozing down his cock and falling onto his bright ginger pubes! This is definitely one of the best jerking off Duos on Islandstuds. The fun doesn't stop after the guys shoot their loads. It gets even better when they head over to the shower with their cocks still fully erect. Robert lathers up his short fat cock and washes his manhole well, then turns his bubble butt to the camera, spreading it wide open so that we can see the individual droplets of water running around his hole. Dakota's cock was still hard when he decided to take a "secret" piss, pretending that nobody was watching him. It was a nice, solid stream of pee that was directed towards Robert's butt (and Robert wasn't aware of it). After the sexy and hot shower scene, the two buddies exchange their thoughts about this mutual jerkoff scene and everything else that they did today. And then, all of a sudden, Red Robert tells us that he really needs to take a pee! Out with his ginger cock, and he takes a nice, long pee on the cement below his bare feet. Dakota was in awe while he watched Robert take a really long piss! Piss lovers need to take special note of this part, because it is truly special!
Overall, this was a great duo video, with two amazing straight guys who were not afraid to experiment with new things and jerk off tohether. Both are sexy in their own way, Dakota has a really big dick and Red Robert has a really fat one. Jerking Bros are always hot to watch, and their hard cocks are so juicy and it's difficult to remain unmoved by the sight of these powerful erections.
Preview video: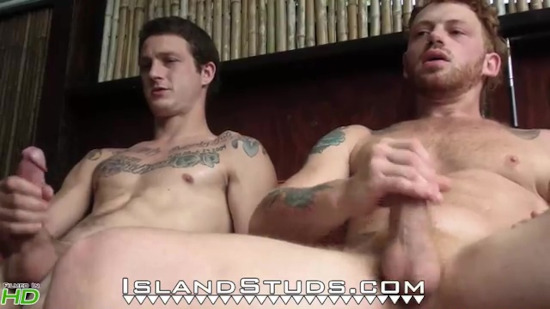 Click here to watch their entire movie in HD quality at Island Studs!
Island Studs is a great, new, and refreshing porn site that features hot guys from Hawaii. These bad boys have no problem with showing off their beautiful, toned body and hard cock. Watch them as they do their usual chores against the stunning backdrop of Hawaiian nature!