by Ben Daniels (Admin) on Oct.16, 2014, under Men of Montreal
Mike Aucoin is a young muscular dude who comes across as a very easy-going and amiable man. He is only 25 and works as a construction worker – in the demolition department. He's been working that job for a few years now but his real passion is porn. He has been obsessed with shooting some porno scenes for a while and, although he identifies himself as straight, he said he would like to experiment with guys more often. He didn't even know about the term "bi-curious" and when we explained what it meant he said "Yes, that's it! I'm bi-curious!"
Mike is definitely not ashamed of his body (and who would be with a body like that) and he often walks around his house bare chested or naked, even when his friends are in the house. So when we asked him if he would mind taking off his shirt in the middle of Montreal's Old Port, Mike said no problem and took it off without thinking twice, although there were a lot of people passing by. There's no denying that this hot bi-curious jock is a natural born exhibitionist. And what a hot smooth chest he has… it's naturally smooth (he doesn't shave) and his muscles look natural and strong. He's got pretty big arms and of course a six pack. As far as smooth chests go, Mike's chest is just about as perfect as it gets.
When we eventually went inside into the apartment, he didn't waste any time and immediately started to play with his chest and rub his dick through the pants. Then he decided to take off all his clothes and remained only in his underwear. His cock's real size could easily be gauged through the briefs, but it was an even greater surprise when he whipped it out. It's definitely a beautiful and big cock – it measures no less than 7 inches (18 cm) and has a big, imposing mushroom head. Mike's cock is cut, which is a bit unusual for Canadians. It also gets totally hard and stiff and never went down while he was busy with it.
Another thing that we noticed – Mike didn't mind giving us a great view of his hairy asshole, and even played with it using his fingers, which is something that most straight guys wouldn't do at all. Some would finger their ass if you specifically asked them, but Mike was obviously very much open to the idea. Do we have a top or a bottom here, I wonder?
Looking at Mike while he's stroking his huge thick cock was such a joy, especially since he is so eager to learn more about the porn biz in general. His enthusiastic approach was more than obvious all the time, and I can only say that I'd like to see him fuck a guy as soon as possible. Mike jacks off his cock while at the same time he touches his chest, abs and basically gets horny off his own body. Soon enough he shoots his load, a nice big load of warm jizz that splatters all over his six pack and chest. I sure hope to see much more of this hot bicurious straight boy.
Preview video:


Click here to watch his entire video in HD quality at Men of Montreal!
Marko Lebeau is a gay porn star from Montreal. He noticed that there is a big demand for men from Montreal in the USA and other countries, so he decided to make this new reality-based porn site which primarily features new male models and local male strippers in and around Montréal. Many new and exciting hot men can be found here, so if you're bored with other sites you can give this one a try!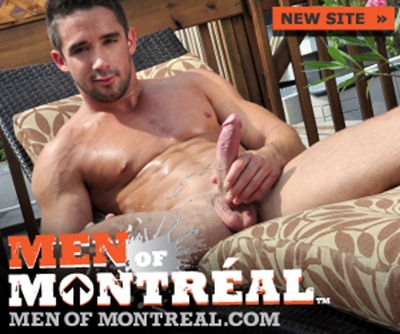 :bicurious men, big cock, facial hair, handsome, jerking off, Mike Aucoin, muscles, mushroom head, perfect chest, showing ass, thick cock