by Ben Daniels (Admin) on May.28, 2018, under CMNM
We continue our story about the pervy CEO of the company called Machine Tools (you can see the first part here). After having examined the first worker, Mr Swallows proceeds to carefully examine Gary as well.
These workers often have to work in unpleasant conditions, with noises of the equipment pounding away and the temperature can get really high, too. Gary isn't so fond of his job and spends most of his time making sex phone calls with the many girls that he fucks when he is not working.
Mr Swallows has heard these rumours and wants to make it completely clear to Gary just how disposable he is. However, Mr Swallows is also keen on checking Gary's dick by himself, because he wants to see if it really gets hard so easily as the rumours claim. He tells Gary that he must demonstrate just how skillful he is with his own tools if he intends to keep his job.
Check out these pervy men's wanton adventures in their whole videos in HD quality at CMNM.
Clothed Male / Naked Male (CMNM) is a hot porn site where Nervous straight guys get stripped naked, groped and violated by fully clothed men.
There's nothing better than stripping straight lads completely nude, putting their bodies on display, and teaching them exactly how to submit! When they are in such a submissive position, one would be crazy not to use the opportunity and jerk them off.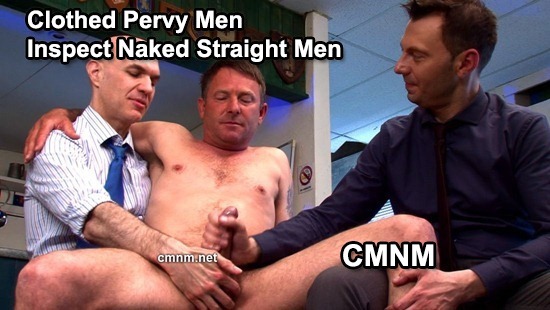 :blue collar men, examined, Fingering Ass, fit body, gary, Mr. Swallows, nice cock, spontaneous erection, tattoos