by Ben Daniels (Admin) on Sep.19, 2014, under BaitBuddies
Aaron Slate is a very cute gay boy who is very much into straight guys – preferably those with uncut cocks. Namely, this dude loves manipulating the guy's foreskin and playing with it as much as he can, it's one of his main fetishes. Now as soon as our straight guy Connor appeared on the doorstep it was more than obvious that not only was he a proud owner of a nice 7,5-inch cock, but also a nice, handsome masculine dude. He's pretty much a complete package, complete with 6-pack abs, strong legs and nice bubble butt cheeks.
The guys are made to go through the usual crappy story about the missing girl, yada yada. But first, the guys are told to get rid of their clothes and start stroking their dicks until they're rock hard. Our director Caruso tells them that it's of great importance to find out whether a male porn actor can maintain erection in the presence of another naked guy with a hardon. Some straight guys can't do it, some can. But, as Connor will soon find out, this was not a preparation for making a straight sex movie…
Connor's dick gets stiff and rock hard and stands like a rocket on the launch pad. Aaron starts salivating over Connor's gorgeous hardon, and it's not long after he takes Connor's cock in his mouth and greedily starts to service him. Now both men have passed the "erection test", and they're awaiting the girl, who will of course never arrive.
Sitting there naked with a hardon next to another guy has made Connor a little nervous so he starts some small talk with his newly found buddy Aaron. He inquires whether Aaron thinks that the girls they're gonna get are cute, and Aaron says that he thinks so, "it's porn after all, they really have to be cute, that only makes sense". Connor is still nervous in the anticipation of the girl who will never come, and finally main director Caruso announces officially that the girl won't be coming, due to… whatever circumstances.
Caruso makes his standard offer to the guys – they can make double the amount of money if they have sex with each other instead with the girl (who will never come)… and Connor is at first shocked and replies with a brief "No way!". There was a real danger that Connor would disappear from the set, thoroughly disappointed at not getting what he had expected. But, after considering the considerable payoff if he proceeds with the scene with Aaron, Connor finally decides that it's a good bargain and, after all, why not? All in the name of experimentation and acquiring new experiences.
The guys start stroking each other's hard tools and before you know it they are also exchanging blowjobs. Aaron is more than happy to services Connor's raging straight dick. The main director tells them to stand up so that they can play with their erect dicks for a while and do some good ole sword fighting. The guys are also kissing each other, and I mean kissing really nicely and passionately, exchanging real French kisses. Then our main director Caruso tells the boys that it's time for Connor to return the favor and suck Aaron's dick. Connor didn't find this request too hard and quickly obliged. Connor takes Aaron's cock in his mouth and realizes that the whole thing isn't so bad as he had thought! I almost thought that this wasn't really the first time for Connor to suck another man's cock, just by analyzing the skill with which he approached the challenge! But of course, it was his first time, it's just that us guys know how to handle another man's tool much better than your average girl.
Connor is a natural born top – he can fuck women and as far as men are concerned, he made it abundantly clear that he can only be a top, and not the other way round. That's totally fine with Aaron as he was expecting to get his tight little gay hole pummeled by a hot straight guy like Connor anyway. So Connor aims his dick at Aaron's ass and starts drilling it. The guys didn't like the position they started with, so they change the position and now Aaron is lying on his back. Connor is a typical confident and braggy straight dude – he likes to show off his talent for fucking and drilling hot pussy – although, admittedly, in this case it wasn't a real pussy at all, but the principle remains the same however you look at it. Connor is a good fucker for sure. Aaron doesn't resist the aggressive onslaught of Connor's cock and thoroughly enjoys in each and every Connor's thrust. Aaron also strokes his own cock, hoping to cum at about the same time as his fucker.
When he was close to cumming, Connor increased the pace and fucked Aaron really hard until he managed to fuck the cum out of Aaron! Not long after that Connor pulls out and adds his own load to Aaron's already ejaculated spunk.
Preview video:


Click here to watch their complete video in HD quality at Bait Buddies!
Bait Buddies is a pretty hot straight guy site with plenty of updates and some very hot guys indeed. There is always a "bait" dude who is bi or gay, and a straight (or sometimes "straight") dude who needs to be seduced into gay sex.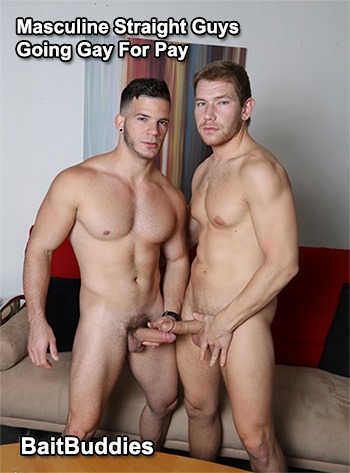 :Aaron Slate, beefy, blowjob, Connor, cute, facial hair, fuck the cum out, fucking, gay for pay, handsome, muscled, straight men, upright cock