by Ben Daniels (Admin) on Apr.16, 2016, under BaitBuddies
Javier is a hot, handsome gay boy who recently turned 21 and I think he looks better than ever. He's got a nice, fit body and a very large 7-inch uncut cock to match. The casting director interviews Javier in the beginning and we learn from it that the main plan of the day is to seduce the main straight boy – Saxon – into having sex with Javier.
Saxon is a beefy, rough-looking straight dude who loves to strut his stuff. He's very muscular, with big pecs, strong legs and a really strong bubble butt. He works out five days a week, so it's no wonder he looks like a fucking tank. Saxon is a proud owner of a 8-inch hard cock, which we first see during the so-called "boner test" when both boys were instructed to whip it out and get hard. Javier's cock was hard as soon as he took it out, and Saxon watched some pussy porn playing on the DVD and got rock hard not long after that.
As the usual story goes, the promised girl that these boys were supposed to fuck doesn't show up, and then they're offered double the money to have sex with each other. Saxon is very reluctant and says he could never have sex with another dude, so Caruso tries to explain that if girls can do it with girls all the time, it's no big deal if guys try the same thing, if nothing else then for the sake of experiment. Saxon finally remembers that he has some bills to pay, so this easy cash will come in handy!
The guys start stroking each other's hard cocks. It seems Saxon was just totally confused when he was confronted with Javier's cock. It seems his whole experience was surreal to him, but eventually he manages to receive his first gay blowjob, hooray! Saxon is then instructed to return the favor and he sucks Javier's dick in exchange for Javier's skillful blowjob. Next, the guys stand up and start comparing each other's cocks. There's also a bit of frotting action here. The guys then kiss each other and make out a little bit.
Saxon is now intrigued by Javier's tight little butt and starts inspecting it. Little by little it becomes evident that he wants to fuck that ass real bad! He puts on a rubber and shoves his 8 inches right inside in one push. Saxon fucks his newly found buddy pretty hard in several positions, and eventually he makes Javier shoot a big load all over himself. Saxon then pulls out and adds his load which splatters all over Javier's chest and neck. The guys head to the shower and then we can listen to their impressions in the "After the Shoot" interview.
Preview video:
Click here to watch their complete video in HD quality at Bait Buddies!
Bait Buddies is a pretty hot straight guy site with plenty of updates and some very hot guys indeed. There is always a "bait" dude who is bi or gay, and a straight (or sometimes "straight") dude who needs to be seduced into gay sex.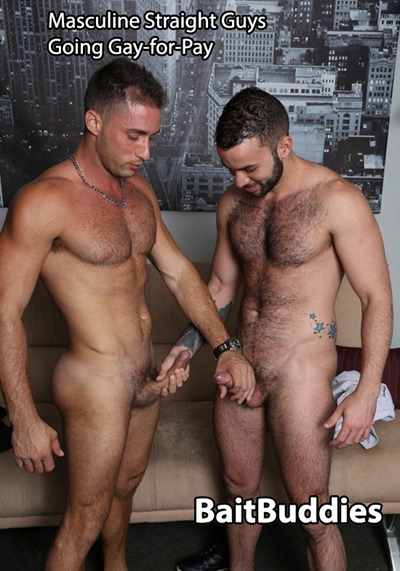 :beefy, blowjob, first time gay sex, gay for pay, huge cock, Javier Cruz, Latin men, muscled, Saxon, straight men, straight to gay, stroking cock, thick cock