Hung, ginger-bearded and always horny math teacher Mike is back to show us more of his goodies in his second video on Islandstuds. We featured his first appearance on Islandstuds several years ago, and you can see it here.
Some of us have had a misfortune of having had overly serious, zealous and strict math teachers. No such problem with Mike! He is a happy, amusing and handsome High School Math Teacher and he hails from Eugene, Oregon. His body is naturally muscular and smooth. He doesn't have too many tattoos, but there's one rather interesting on his butt – a monkey is poking him in the ass!
Mike sports a thick, 8-inch cock which is a real joy to watch. Below his cock are his big balls that seem to be residing there happily while being covered by a thick ginger bush.
Mike is always eager to show off his body for the camera – he flexes his muscles, whips out his cock out of his tight sexy underwear, walks around the patio with a full erection, plays with and stretches his body on a red exercise ball, rubs and plays with his heavy balls every now and then, and takes two impressive pisses on the wooden deck.
Mike was more than happy to show us his asshole by spreading his muscular butt cheeks with his hands.
As is the usual custom on Islandstuds, Mike was given the task to do some manual work in the garden while being completely naked. He scrubs the deck chairs while kneeling on all fours. While he's doing that, we can enjoy the sight of his pink butt hole shining in the sun, as well as appreciating his big dirty masculine feet.
Finally, Mike sits on a chair, which is surrounded by thick forest, and start stroking his 8-inch hard dick, while also playing with his balls all the time.
After some time, Mike shoots a huge load of jizz, which splatters all over his six pack abs and tight balls. And then it's time to take a shower and wash up all that sticky mess from his body.
Mike is currently 29 years old, his height is a little less than 5'7" (170 cm), and he weighs in at about 150 lbs (68 kg). We can imagine what kind of an impression he leaves on his students with his sparkling bright blue eyes and a sincere, disarming and friendly smile. Mike says that he feels flattered to be asked back to model for Islandstuds. And he says that with his trademark cheeky smile while showing us his ass in a camera close up!
And then he adds "I am feeling adventurous and horny today!" Then he explains the meaning of the two cartoon monkeys: one with his finger up the ass of the second monkey, and the second monkey has an extended arm attempting to shove his hairy monkey finger into Mike's ass! That's definitely one strange tattoo, but we can certainly see the meaning behind it. Mike then admits that he likes getting poked in the ass! And he says that without any shyness or sense of embarrassment.
This whole second video with math teacher Mike is actually a very honest, behind the scenes video footage of Mike and the director where they spent some time together in this pleasant Oregon garden.
Mike tells us a lot of juicy details about his private life in the Pacific Northwest: he has a passion for snowboarding, and then he also explains his favorite gym workouts. He adds that he has a special penchant for Asian women who are not afraid to bend him over and stick a dildo up his pink manhole! Perhaps a little unusual for a straight guy, but we like it!
In the second video, Mike was definitely more laid back and sure of himself than in the first video. Without any embarrassment, he keeps showing us his big and beautiful 8-inch cock and plays with his balls all the time. It seems that Mike is also quite fond of sexy underwear, which he explains in detail in this video as well. He strokes his throbbing hard cock, and then takes a long powerful piss.
The stream of bright yellow pee is outporing from his dick, and you can hear the loud sound that it makes as it hits the ground besides his bare feet. That was just the first of two in total power pisses. Then he takes a garden hose and washes off his own pee from the ground.
As far as the popular naked worker series is concerned, Mike was given the task to scrub the plastic deck chairs while being totally naked. He gets on all fours, and proceeds to scrub the deck and furniture while allowing the cameraman to focus on his tight pink manhole. Those who are crazy about assplay will definitely like both of Mike's videos.
Mike shows us his gaping hole as many as six times in the first video and four times in this new video.
Once that sweaty nudist work session is over, math teacher Mike makes himself comfortable on a chair outside by the Oregon Forest and proceeds to stroke his cock in a rather long and hardcore jerk off session. He spreads his legs wide open again, and then starts stroking his beautiful 8 inch rock hard cock and playing with his balls. There is something very appealing in knowing that this math teacher is also quite open-minded, and that he doesn't care if anyone of his students ever finds out about his little porn sojourn on Islandstuds.
And after a rather long cock-stroking session, Mike rewards us with the explosive cumshot! He keeps moaning loudly while plenty of white manjuice splatters all over his hands and ripped eight pack abs. When it was time to take a hot soapy shower, we follow Mike there and he continues talking to us and showing off his hot athletic body.
Once more he repeats "I like getting poked in the butt!" as fingers from both of his hands end up stuck into his ass crack! What a refreshing spectacle! Mike is definitely a keeper and we hope to see this hot horny Mass teacher again!
Preview video: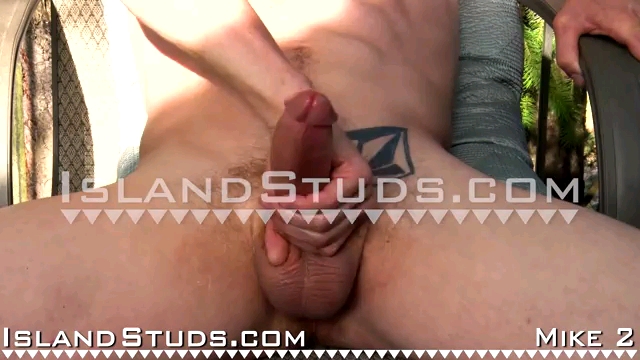 Click here to watch his entire movie in HD quality at Island Studs!
Island Studs is a great, new, and refreshing porn site that features hot guys from Hawaii. These bad boys have no problem with showing off their beautiful, toned body and hard cock. Watch them as they do their usual chores against the stunning backdrop of Hawaiian nature!