Johnny Glyserin is a big (6'2"), straight guy from Texas with hairy chest and a very nice, big & fat uncut cock. Johnny is a total sucker for women and goes about spreading his seed whenever he can. He's especially fond of chicks with big boobs. Believe me, he isn't gay but we managed to get him to have gay sex by using our little shrewd tricks.
Travis Irons is our bait guy and he met Johnny at the gym. As soon as they met Travis knew he had to have Johnny. After all, one never lets such beautiful manly guys go without having at least tried to service them.
Anyhow, we first let Johnny watch a porn movie with some girls to get him into the mood. He thought that a girl would be coming and that he'd have sex with her. Well, now the bad news for Johnny – the girl won't be coming, instead he will have to make do with his gym friend Travis. At first it looked as if he'd just stand up and leave but when we offered some cash he changed his mind.
That was some mighty good news for Travis because now he knew he could finally grab Johnny's massive cock! The two guys sit next to one another and slowly stroke their dicks when suddenly Travis grabs Johnny's dick and begins to stroke it. Travis begins to kiss Johnny and after some time Johnny tries his skills as a cocksucker. I don't think he liked this at first, but soon enough he seems to have overcome the initial aversion to another man's cock and was doing pretty fine.
We tell Johnny to put on a condom and start fucking Travis doggie style. The two men got into the fucking quite well and pretty quickly but then suddenly Joe Parker walks into the room and interrupts them. You gotta check out Johnny's face expression the second when Joe comes in, it's epic.
Joe should have done some electric repairs in our studio and we forgot to tell him that we'd be shooting porn today. This shoot wasn't planned in advance anyway. Dang! But, it turned out fine, even superb because Joe didn't want to sit and watch but took part in this porn extravaganza instead. The other two men didn't protest too much, especially after our casting director persuaded them that Joe was an ok dude and that they should let him join them.
So there we got our double penetration completely unplanned! Joe and Johnny fuck Travis in the ass at the same time and Travis is on the seventh heaven due to the fact that he has two strong cocks inside his ass! You can tell that Travis is enjoying every second of it.
Travis was so turned on by having two big cocks in his ass that he shot a massive load all over his stomach and chest and then he tells his fuckers that he wants their cum on his face. The guys obey his wish and give him a facial that he'll never forget.
Stay tuned for part 2!
Preview video: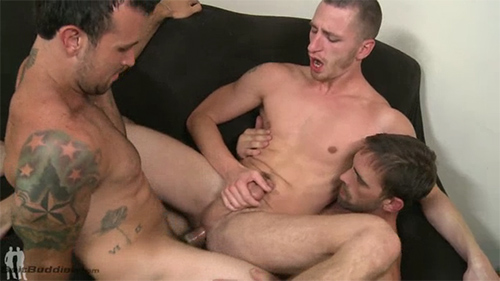 Click here to watch their complete video in HD quality at Bait Buddies!
Bait Buddies is a pretty hot straight guy site with plenty of updates and some very hot guys indeed. There is always a "bait" dude who is bi or gay, and a "straight" dude who needs to be seduced into gay sex. Clearly this is usually staged, but it's pretty hot neverth