by Ben Daniels (Admin) on Sep.10, 2014, under Chaosmen
It's such a joy to work with Brenner, especially when I can offer him someone's huge cock for his mouth or ass. On the other hand we have also Trian who always enjoys having his cock serviced properly. You see, although Trian thinks of himself as totally straight (he's a single dad and was in the military – more about Trian in his solo preview that I plan to write soon enough), he admits that he has messed with the guys, fellow marines and that he found it interesting. Namely, this spunky dude gets off on being in the center of attention and whether it's a girl or guy he can get hard if he can show off a bit. As for his private tastes, they're quite specific – he jerks off only to brunettes with big asses and blue eyes.
Well, while Brenner is defo not a brunette with a big ass and blue eyes, his mouth is very skilled to provide a memorable blowjob session. The two guys start off by exchanging some really passionate kisses (which surprised me by their intensity). Brenner examines Trian's big bulge through Trian's sweatpants. Brenner will soon be on his knees with Trian's cock in his mouth. Now, we all know that Brenner is no noob as far as the art of cocksucking is concerned, and he really gives his best. Trian is totally shocked by Brenner's demonstration of sheer mastery at the art of cocksucking, and his dick gets even harder. Brenner easily swallows Trian's entire fat dick and it disappears deep in his throat.
Brenner wants to see if this newly found cocksucker can also give good service for his ass… he pushes Brenner's face into his ass encouraging him explore it with his tongue. Will we ever see Trian in the same position while some big-dicked stud is fucking his ass raw? I think it would be interesting.
Brenner tells Trian to get on his back again so he can have an easier approach to his cock. It seems our curious straight dad was somewhat distracted so he had to jack off solo for some time to bring himself to the orgasm. The boys shot their loads at about the same time and it was a sight to behold!
Since Brenner thinks it's a complete waste of good man's semen to leave it like that, he greedily licks it all up and leaves Trian's cock and body squeaky clean. Trian would like to know if his cum tastes well, to which Brenner responds by kissing him and giving him a bit of taste of his own cum!
Preview video:


Click here to watch their entire blowjob video in HD quality at Chaosmen!
Chaosmen is a great porn site that features hot straight and bi men getting serviced or fucking their mates bareback for some cash. This site is exceptional and very unique because almost every single fucking is bareback and ends with a gorgeous internal cumshot or creampie.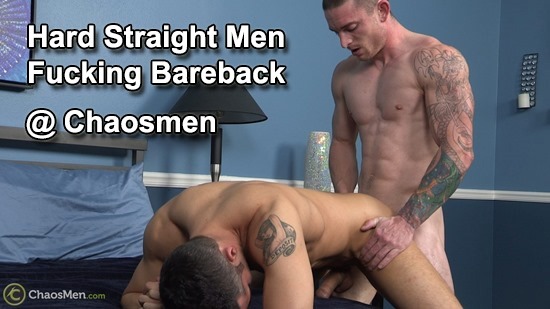 :beard, blowjob, Brenner, cum eating, cum swapping, fit body, gay for pay, rimming, Serviced, smooth chest, straight men, Swimmers Body, tattoos, Trian