Kamani is a hot young musician who was born and lives on Hawaii. This is his second appearance on Island Studs, and he was definitely eager to show off his beefy brown-tanned body, big cock and thick Hawaiian fur covering his chest, stomach, abs, butt, as well as his full beard. It was a long wait, but our patience has finally paid off!
Kamani plays for us the "Ohe hano ihu" or a traditional Hawaiian nose flute. He removes the excessive clothes and remains wearing only his black Calvin underwear. He starts flexing his muscles and especially showing off his impressive big biceps. He gets rid of the underwear as well, and exposes his crotch and balls to the camera. At one point he accidentally shot his load while indulging in his cock stroking session a little too much beside a tree. Not the one to get discouraged or nervous because of such an "accident", Kamani continues with his work in the garden, steering a wheelbarrow and handling garden tools, while his big cock keeps slapping against his hairy thighs. He works up a sweat while raking up fallen Avocado leaves. Whenever he bends over, we can clearly see his big balls dangling in all directions, as well as his super hairy ass. He then takes 3 long and intense pisses in the garden.
Then, it's time to cool off a bit in the swimming pool! Of course, the Island Studs' special Sports Action Camera follows him underwater while Kamani skinny dips and jokingly spreads his ass cheeks wide open so that we can clearly see his virginal pink hole. Kamani really enjoyed floating on a raft and being exposed to the hot Hawaiian sun.
Finally, it's time for a long and thorough jerkoff session. Kamani makes himself comfortable on a sofa and starts stroking his big dick. After some time he shoots his second big load of Hawaiian jizz! Time to head straight into the shower to wash off all that sticky mess!
Kamani is currently 26 years old, his height is 6'1" and he weighs in at about 175 lbs. He comes across as a much more confident guy than when he was a smooth, 23-year old local boy. Both of his videos are now available for the Island Stud's members in the members area of the site.
Preview video: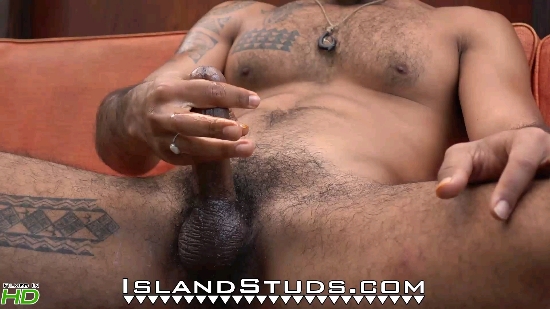 Click here to watch their entire movie in HD quality at Island Studs!
Island Studs is a great, new, and refreshing porn site that features hot guys from Hawaii. These bad boys have no problem with showing off their beautiful, toned body and hard cock. Watch them as they do their usual chores against the stunning backdrop of Hawaiian nature!