by Ben Daniels (Admin) on Sep.05, 2013, under EricVideos
What can be hotter than pairing two opposites – dominant and aggressive masculine top Peto Coast and submissive exclusive bottom Nathan. This was hands down one of the best Peto's performances I've ever seen and I suggest you watch it too.
Nathan had been browsing the Internet and when he found Peto's videos he promised himself that he'd have to be fucked by this aggressive macho stud at least once. Peto was happy to fulfill this Nathan's wish and that's how we made the video.
The movie begins with Nathan standing on all fours with his ass up in the air fully exposed and waiting for Peto's cock. Peto comes in leisurely and slowly gets down to work eating Nathan's ass. He spits on it several times to lube it properly. Then Peto unbuttons his pants and we can see that his dick is already hard and ready for action. He slowly inserts it into Nathan's ass, but not long after that he starts to fuck Nathan really hard.
Peto is famous for his sudden, violent thrusts that I rarely see with other tops. Just when Nathan thought that Peto would switch into a more gentle fuck mode, Peto shoves his dick deep inside, without any prior warning. Then Peto proceeds to fuck him hard while Nathan's legs are in up in the air.
The two guys kiss each other passionately, then Nathan deepthroats Peto's dick. This was only a prelude to more fucking, because with Peto you ain't seen it all until he demolishes your ass completely. Nathan is now riding Peto's massive schlong and Peto nails him from below really hard. This was one of the best scenes with this position that I've ever seen.
Now it's time for some side-splitting and Peto positions Nathan so he can penetrate him while he's lying on his side, while holding one of Nathan's legs up in the air with his hands. This allowed him to penetrate Nathan really deep and well, and Nathan could only pant and moan.
Now Nathan feels the need to reciprocate by taking Peto's large dick in his mouth again and gives him another blowjob. Then Nathan takes another pounding from Peto, first sideways, then while he's lying on his stomach. The next position was a bit acrobatic, you will notice it in the full video for sure.
That was a nice prelude to the grand finale: Nathan lies on his stomach and Peto fucks him from behind. We can see that Peto is coming close to the orgasm and after several moments he pulls out and shoots several nice squirts of his cum onto Nathan's butt, and then quickly shoves it again to breed Nathan's ass. Peto nails him now real good and hard, pushing his seed very deep inside.
Like I said in the beginning, this was in my opinion one of the best Peto's performances and I heartily recommend it to all his fans.
Preview video:
Click here to watch their entire video in perfect HD quality at Ericvideos!
Ericvideos is a fantastic porn site for the lovers of extreme hardcore and bareback fucking! It features fresh, new and very masculine men from all over the world. This is no ordinary porn site, it is especially made for the real connoisseurs of masculinity and raw bareback sex. It has hundreds of high-quality videos in HD.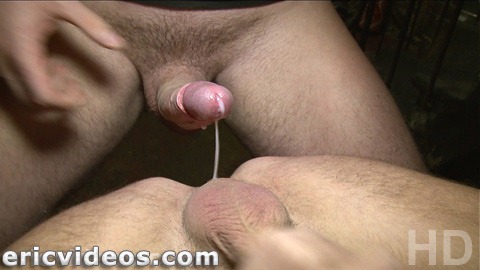 :aggressive tops, bareback fucking, beard, big dick, Breeding, fit body, masculine, Nathan, Peto Coast