by Ben Daniels (Admin) on Dec.02, 2014, under SpunkWorthy
Damien is just the type of men we like to showcase on this blog – he's a beefy marine, only 22 years old and of course he's always horny. He got back from his overseas deployment only recently and couldn't wait to try something new in life. And what better way to break with the old but to appear on a porn site? Truth be told, Damien has always wanted to try his luck in porn. He had been dreaming about fucking hot chicks in front of the camera for a while now. Well, as soon as he sent us his half-naked pics I knew that this marine will probably have a good career in porn.
Another funny tidbit of interesting info – when he told his marine buddies that he planned to do some work for a porn site they weren't taken aback at this and actually assured him that out of all the guys in his barracks, he is best equipped for something like that.
As soon as you see him, it becomes obvious that this straight marine loves sports. He has played pretty much every sport that one can think of. He also likes to go to the gym and does it quite regularly. All this physical activity has made his body quite fit and hot, with plenty of hard muscles at all the right places.
In my opinion, Damien was very eager to show himself in the best light during his porn debut, his enthusiasm is quite obvious and charming. Of course, several days before he came to our place I told him by phone to try to abstain from jerking off for at least three days. He would have done that had his girlfriend not asked him to fuck her, since she was really quite persistent. Well, I guess one can't blame her, it's pretty fantastic to have such a hot boyfriend who is clearly very skilled in bed!
Damien took our offer very seriously, though, and although he took care of his girlfriend's needs, he abstained from shooting his load…. so he did arrive with a 3-day load after all.
His cumshot was pretty memorable so it's probably true that he saved it for about three days – the squirts went high up in the air and hit his chest, armpit and even neck. His six pack was also drenched in warm jizz.
There's also a peek at his shower scene which we did after the main shoot. It wasn't supposed to be included in the final cut of the video, but I think it was really hot and sexy to watch him taking a nice sensual shower. We also get to hear a lot of crazy stories while he's washing his body. As usual, the straight guys like to talk about their girlfriend, so we get to hear the story of a long lost girl and how she would have been the best candidate for becoming his wife. Also, he tells us how some gay men wanted to "examine" his ass – just like that, out of the blue. Gay guys can be blunt just like that.
Behind the scenes, in the shower:
Preview video:


Click here to watch and download his entire video in HD quality at SpunkWorthy!
SpunkWorthy is a great porn site that features younger straight amateur dudes. Lots of truly straightmilitary guys doing gay for pay only once or a few times! This site is usually the first and only place where you'll see these bad boys, so don't miss out!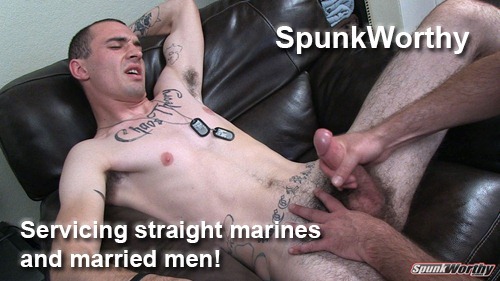 :beefy, big cumshot, big dick, Damien, handsome, inked, jerking off, marines, military men, muscled, sexy, straight men, thick cock