Girlfriends can be pretty possessive, and Damien's girl was no exception. Soon after his previous appearance on Spunkworthy, she began to shorten his leash, so he couldn't come again as soon as he wanted. When he finally called Jason, asking if he could do yet another video shoot, Jason was really happy to hear from him and determined to make the most of it with this beefy stud. Jason also thought it would be good to broaden Damien's horizons a little by introducing some ass play into the shoot. Based on Damien's reactions, we think it's safe to assume that he enjoyed that extra ingredient during his massage.
As soon as Damien appeared on the doorstep, it was obvious that he was really horny – pitching a tent in his jeans and very eager to get started. It looked as if he wasn't getting enough of his girlfriend's pussy lately and his balls were quite full.
Damien is 22 years old, his height is 5'9" and he weighs 175 lbs. His hair and eyes are brown. He wears shoe size 10, and his cock is 6,5 inches long. He identifies himself as bi-curious.
Jason was quick to remove Damien's clothes and immediatelly started to work on getting his cock hard. Then, perhaps unexpectedly, Jason pushed Damien's legs back and began to rim his virgin ass! This must have been something quite new for Damien and his mouth fell open from being totally surprised at how good that felt!
True to his dominant nature, Damien stood up, grabbed Jason's head, and started to slowly guide Jason's head and mouth on his dick, face-fucking him. At first he wss gentle, but then he increased the pace until ge found the rhythm that suited him. Damien's cock was rock hard and he loved face fucking his cocksucker.
Although he really likes getting blowjobs, Damien had previosly mentioned that he usually doesn't cum while getting his cock blown. Jason saw this as a challenge and was determined to be the first Damien's cocksucker that would get him off using just his mouth.
After some more cocksucking, Damien grabbed his dick and started to stroke it. At the same time, Jason pushed one of his fingers into Damien's asshole, which proved to be the magic button that needed to be pressed in order to make Damien cum! Damien's entire body tightened and he uttered a series of moans, murmuring how he was about to cum at any moment. And then, he shot three big squirts of jizz which flew all the way up to his chest and shoulder!
Preview video: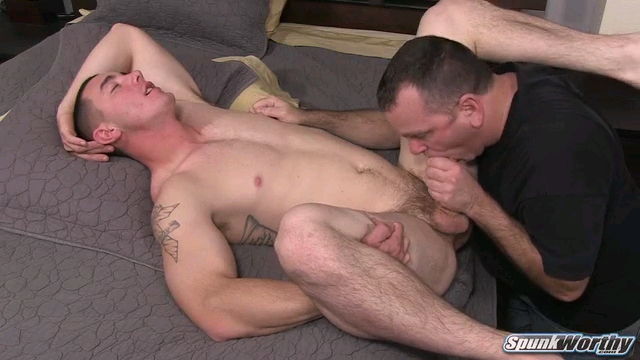 Click here to watch and download his entire video in HD quality at SpunkWorthy!
SpunkWorthy is a great porn site that features younger straight amateur dudes. Lots of truly straight military guys doing gay for pay only once or a few times! This site is usually the first and only place where you'll see these bad boys, so don't miss out!