Paco is our old friend, but he had never been serviced by our newer cocksucker Trey. When we pointed out that we have a new cocksucker for him, Paco said that the best way for them to get to know each other would be to let Trey suck his cock and rim his ass. We couldn't agree more.
Paco was very satisfied with our new cocksucker. He was all sweaty from finishing all kinds of work today and he decided he wouldn't take a shower but let Trey clean his body with his tongue instead.
So Trey had to fully service this nasty straight motherfucker: from licking his sweat and rimming his asshole, to blowing that beautiful straight dick of his. Trey thought that Paco's cock was amazing and treated it with due reverence and utmost respect. For Trey, a man's erect cock is a deity to be worshipped and pleased. Trey takes his job very seriously, mind you.
Trey couldn't resist and had to suck Paco's balls as well. Then he switched to Paco's cock again and sucked it like a pro that he is.
Suddenly Paco felt that he was about to cum and dumped a big load. At the end, when he was on his way out, Paco said "It was a good first meeting."
Short preview video: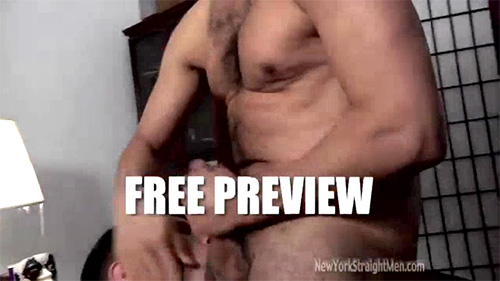 Click here to watch his entire video in perfect HD quality at New York Straight Men!
New York Straight Men is the world's biggest collection of straight men getting their blowjobs from gay dudes! These men are usually truly straight but they love getting head from a gay guy because it feels so much better than whatever their girlfriends can do. These men are not the Hollywood type cuties, they are Real Men!