by Ben Daniels (Admin) on Mar.30, 2019, under Island Studs
Today we're going to spend some time with two hot and hung jocks: Brett and Calvin. These two guys are real life buddies, they share the same interests, same job, same cock size (more or less) and even the same taste for women. They decided to come together today and shoot this video where they jerk off their big cut and uncut cocks, fool around with each other, whack open the coconuts with their sharp machetes to drink the coconut juice, cover their smooth ripped bodies with milk, pose naked together, hug, flex their muscles, piss in the garden and of course stroke their magnificent 8-inch pulsating cocks.
We have already seen Brett previously (check out his solo shoot here) when he worked as a mechanic. Brett is of Hungarian descent, with buffed up body, persistent infectious smile and huge, thick 8-inch uncut cock. His buddy Calvin is an All-American Smooth Blond Surfer who works at the same job like Brett – they are both Coconut Farmers. They arrived in their dirty work clothes and stood beside Brett's farm truck which was loaded with fresh Hawaiian coconuts. It didn't take them long to take off their clothes and remain only in their sexy jockstraps. Both guys are very horny and, naturally, dirty thoughts and words spontaneously start flowing around. We get to see two 8-inch hard cocks side by side, which was so much fun to watch and film.
Then there are scenes of these two guys floating on rats in the pool in the warm Hawaiian Sun, the already mentioned opening of coconuts with machetes, muscle flexing, pissing, and more of stroking their cocks. Since both of them have already made their solo and duo shoots on Islandstuds (5 of them in total), they were not shy about showing off their athletic muscular bodies. Brett is kind of a celebrity and famous on the island because of his massive 8,5-inch uncut cock and muscular ass, while Calvin has some of the lowest hanging Donkey Balls on Islandstuds in general. They're both a little older than in their previous videos, and they look better than ever. Calvin is now 30, his height is 6′ (183 cm) and he weighs in at about 185 lbs (84 kg). Brett is now 23, his height is 5'9" (175 cm) and he weighs 170 lbs (77 kg), which is the biggest he has ever been. He really looks more buffed up than in his previous solo shoot. Brett has certainly come a long way since his first shoot over 5 years ago when he was still a young pup at just 18 years old! His butt is fully muscular now and it's a sight to behold! Nothing better than seeing two hot ripped jocks with their cocks erect and bulging in their white jockstraps while they're standing side by side!
One can't help but imagine a hypothetical situation in which, while you drive by on your Hawaiian holiday, you come across these two guys on the side of the road selling coconuts! How about a quick refreshment with a coconut drink sold by these two hot guys? The scene with them opening the coconuts with their bare hands and machetes was so much fun to watch! They join you in consuming the coconut milk, hungrily slurping it from the coconuts, while the milk is overflowing from their mouths to their bare chests, soaking their jockstraps!
Next, while they were flexing their muscles together, their cocks spontaneously got hard and they both got big boners. They continue to fool around with each other and with the director, walking around the garden with their erect dicks. Calvin then turns toward the camera and takes a very long piss in the garden. Brett is amazed at Calvin's super long pissing! Brett wanted to outdo his buddy at pissing, but he was unable to piss, although he did try!
There is a lot of funny, unrehearsed dialogue that was caught on camera, and you can watch it all, unedited! These two constantly joke around with each other and they obviously like jerking off together. Then there is the typical macho talk about women, while their cocks are hard and sticking forward. Then they walk to the pool (with their cocks still hard), take two rafts and get into the pool to clean it up, and chill together in the sun. The camera catches every little detail of their hard muscular bodies and hard cocks while they float over the cool blue water. We get to see their big balls, awesome cocks, big thighs and smooth bubble butts when they doze off on the water and sun!
Preview video:
Click here to watch their entire movie in HD quality at Island Studs!
Island Studs is a great, new, and refreshing porn site that features hot guys from Hawaii. These bad boys have no problem with showing off their beautiful, toned body and hard cock. Watch them as they do their usual chores against the stunning backdrop of Hawaiian nature!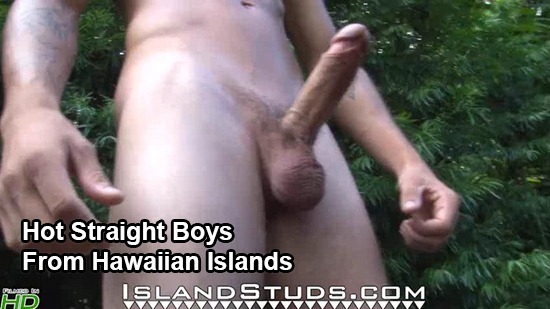 :8-inch cock, Brett, Calvin, cut cock, flexing muscles, fooling around, foreskin play, jerking off, Jocks, low-hanging balls, masturbation, muscled, Outdoors, pissing, pool, straight men, uncut cock