The cruel Masters at BreederFuckers have seen their fair share of arrogant straight lads, but Wayne has to be one of the worst specimens so far. He is always arrogant, he swears continuously and never respects higher authority and the men who are stronger and more masculine than him.
The Masters think that this spunky straight dude will break eventually, even if they subject him to their usual treatment. Wayne is tied up in such a way that his smooth, bubble ass is completely exposed and sort of "hangs" in the air. The Masters viciously spank his ass until it gets completely red and blue. The lashes are very painful, but Wayne continues to spurt out insolent cursing and swearing. After some time, though, his dirty vocabulary gets replaced with whimpers and cries. This once strong and proud hetero man can only beg for mercy, which he won't be getting before he is completely humiliated and cured of his insolence.
The Masters teach him to beg them to stroke their dicks. Every cocksucker should learn how to show proper respect for his Masters, and being very respectful and subservient is a good start. The cruel Masters continue to beat him until they are sure that his pleas are sincere. They beat up his sorry ass so much that big welts began to appear. This was no mock beating, for sure.
His both hands are now holding his captors' cocks, and Wayne thought it would be very wise to say something bad about them again, but very soon after that he was very sorry about what he had done. His Masters shove a big, thick dildo up his ass. Dave puts his large schlong into Wayne's mouth to silence him.
All these steps were necessary to psychologically break this arrogant, self-serving straight twat and now we hope he will be able to be of service to other, more manly men than himself as their faithful cocksucker.
Preview video: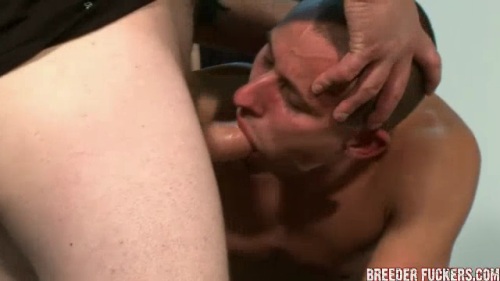 Watch always new, fresh videos of arrogant straight men being turned into obedient cocksuckers at Breeder Fuckers!
If you prefer your porn to be on the kinkier side, you should definitely check out Breeder Fuckers (formerly known as Straight Hell). Breeder Fuckers is a premium fetish site devoted to hot straight guys being tormented, humiliated and treated without mercy by big, mean & aggressive studs!