by Ben Daniels (Admin) on Apr.30, 2016, under BreederFuckers
There's a saying about the material riches and especially about money: "No matter how rich or famous you become, you will always want more… and more… and more… and it will never end". Yep, it's true, it's a curse – no less and no more. It will enslave you and it will become your master. Footballers are no exception to the rule: when they first smell the scent of money, they're hooked for life. Not that money is truly deserving of their attention, but these manly fucks are too stupid to desire anything else of their life – they are satisfied with money and what money can buy. They're particularly attracted to the prospect of having so much money that no woman will ever be able to say "No" to them… well… let's see where that kind of reasoning leads.
Leonardo is a hot, masculine international footballer who plans to make a shady transfer in order to get paid a small fortune and boost his earnings. He knows he will be putting a lot of what he already has to risk, but he doesn't care. In case his main home club ever learns about this transaction, they will sack him and he will lose all his considerable salary as well as the highly lucrative and very exclusive contract!
These pervy men have devised a diabolical plan to lure the sexy straight footballer into a little adventure after which he won't be able to say anything about it to the public. Dave gives Leonardo so many tasks and makes him run around the pitch until he's totally exhausted and until his trackies are drenched in his sweat. Coach Dave decides it's high time Leonardo visited his doctor, who is supposed to perform a regular medical examination on him. The exhausted footballer is put through a weird and humiliating set of examinations, in which, for instance, the pervy doctor is allowed to touch and grope his genitals. When Leonardo finally starts to protest, Dave unceremoniously shoves his big hard dick into the footballer's mouth and orders him to suck him off.
Dave and the doctor take turns and fuck the unfortunate footballer until he finally starts begging them to stop. Both pervy men dump their spunk into Leonardo's mouth, while his ass gets stretched far beyond its former limits. And the most outrageous part of it all is that Leonardo can't really tell anybody about this because he is still under contract with his main club from to which these pervy men allegedly belong. The keyword is, of course, "allegedly" because the name of the game is – deception.
Check out the newest videos with arrogant straight men being turned into obedient cocksuckers at Breeder Fuckers!
If you prefer your porn to be on the kinkier side, you should definitely check out Breeder Fuckers (formerly known as Straight Hell). Breeder Fuckers is a premium fetish site devoted to hot straight guys being tormented, humiliated and treated without mercy by big, mean & aggressive studs!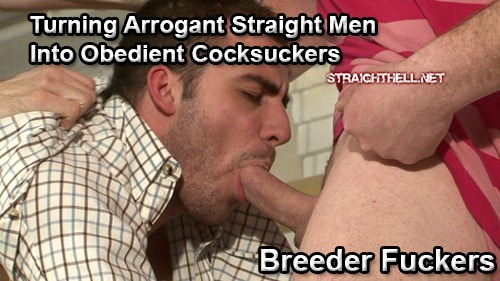 :aggressive fucking, beard, blowjob, Dave, facial cumshot, footballer, hairy chest, handsome, huge cock, Leonardo, outside, playing soccer, spunked, straight to gay