Beefcake Ramon quickly became a very popular guy among the fans of the site when he first appeared on BeefcakeHunter (you can check out his first appearance here on this blog).
Needless to say, Victor was dismayed when this sexy carpenter told him that he wouldn't be returning for more videos. Of course, Victor didn't have the heart to tell that sad news to his site members, because intuitively he kind of knew that we would be seeing Ramon again. And as usual, intuition proved to be correct – Ramon is now back, and looking better than ever! All that time spent in the gym has definitely paid off!
As soon as Victor saw him, he couldn't hide his excitement, and Ramon didn't fail to notice it. Victor was all over Ramon's hot muscular body again, touching and examining his big biceps and triceps, his smooth muscular chest and so on. Victor then offered Ramon a massage, and he proved to be so skilled at it that Ramon admitted that he was surprised how good it felt.
While massaging him, Victor couldn't help but being attracted to that big bulge in Ramon's pants. Thanks to the massage, Ramon was hard in no time, and Victor didn't waste any time before swallowing his thick cock while Ramon still had his pants on.
Victor is hopelessly crazy about this hot muscular carpenter, and he can't help but keep worshiping his body balls and cock. And when Ramon started to breathe heavily, it was a sure sign that things were going as planned!
Victor turned him around, and started to suck on his nipples, armpits and to worship his strong legs. Nothing short of complete heaven for Victor the cocksucker! A long edging session is exactly what doctor has ordered!
Obviously, Victor was so good at it that Ramon had to ask him to stop, as it was too much for him and he could cum at any moment. However, he was pretty good at holding it for us while being worshiped and teased by insatiable Victor.
When he started to moan louder and became  quite verbal, and especially when he uttered: "Are you ready?" Victor knew that the inevitable could not be postponed anymore, and he gave him the green light to cum. Victor was not sure whether it would be better to swallow or to show Ramon's cumshot, so he decided to do a bit of both!
After the cumshot, Victor was happy to offer Ramon to shower, and of course, he followed him with the camera to show us more of his great masculine body there.
All in all, this was a great comeback video with Ramon, and, I for one am really glad to see this hot masculine man again.
Preview video: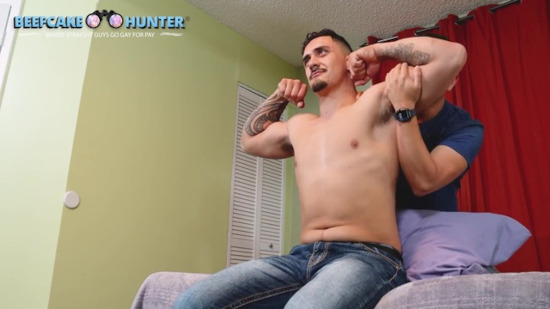 Click here to watch or download their entire video in HD quality at BeefCakeHunter.