by Ben Daniels (Admin) on Aug.30, 2015, under TheCastingRoom
Geoffrey is a young hot straight lad who has just left university and wants to settle down in a new house with his girlfriend. People might think that everything is going well in his life, but there's one thing that he's been wanting to do for a long time. Namely, Geoffrey's long-time wish is to try his luck in porn! It's not so much about money as it is because he's eager to be a porn star.
And so Geoffrey's curiosity has brought him to this porn audition, where he's treated like everyone else. No doubt this young straight boy is very sexy. He's defo got it going on. He's very eager to show off what he's got and the casting director uses the opportunity to inspect his entire body, especially focusing on the cock and big balls! Geoffrey's ass also receives its due attention, and then he proceeds to stroke his uncut dick for us.
Although Geoffrey doesn't like this inquisitive man touching him and messing with his genitals, he knows that if he wants to be in porn he must endure some unpleasant or uninteresting things as well. Geoffrey's dick is pretty nice and big, and you can tell that his balls were full of cum!
I think that we'll be seeing much more of Geoffrey in the months to come.
Click here to watch his entire casting video in HD quality at
The Casting Room!
The Casting Room (formerly known as First Auditions) is a great, original porn site that showcasesyoung, cocky straight men who would like to become porn stars and make loads of cash. They think that they'll be accepted right away and be able to fuck lots of girls, but they don't know that our casting director is very strict and wants to fully inspect them during the audition. He orders them to get fully naked, show their ass, and jerk off so that we can clearly see the cumshot. Plus, we get to hear all their fetishes and what turns them on.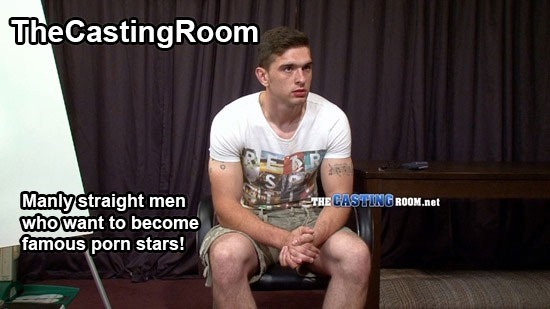 :big balls, big cock, cute, first audition, fit body, Geoffrey, handsome, inspected, interview, jerking off, muscled, straight men, stroking cock