by Ben Daniels (Admin) on Aug.01, 2015, under Chaosmen
Zale and his future partner Truman have several things in common: they are both straight, they have made one complete sex scene with a man already, and they are both eager to explore their sexuality further. Zale had some weird ideas that this pairing might not work because instead of being gay as until now, his partner would be straight and (hence, according to Zale's false logic) he would be intimidated by another straight dude. We assured him that that was just nonsense, that Truman has great sexual energy, and he knows how to share it well with both girls and boys.
And when we said that Truman has great energy that is exactly what we meant. As soon as he stepped into our studio he was already very inclined to chit-chat, he goofed around with his antics, and all the things you'd expect from an extrovert straight dude. Often the stuff he talks about is somehow related with alcohol. Zale still had his doubts but we remained convinced that it would work. Of course, we all knew there would be no romance, but good sex? You bet. Eventually, the guys bro'd out, and that had a definite positive influence on Zale.
We start with both guys lying naked on the bed and stroking their cocks. Zale is such a noob, he didn't know that there exist guys who like to getting fucked in the ass even thought they're straight. He had a funny idea that only the gay dudes could ever find him attractive, but straight dudes nope. Such a silly guy.
We are now sure that Zale finally got rid of that crazy about straight guys not being interested in him. Take for instance the part when Truman had to fight not to cum too early while he was getting fucked by Zale. It was at those moments when Zale decided to try to bottom himself one day, to see what it's all about. I am sure that if he starts training with a standard sized cock, everything will turn out well.
Another thing that Zale found interesting in this first gay sex was how Truman could cum so easily. Truman's downward curve makes his cumshots go at interesting angles, check that out. Usually, Truman would stroke his dick only a little and the cum starts flowing. He was quick enough to aim his jet stream into Zale's six pack, and a large portion of that jizz also went onto Zale's cock. Even some of Zale's jizz gets fucked into his ass.
Then Zale pulls out and strokes his dick until he, too, cums. Truman's ass is already completely covered with Truman's fresh sperm and Zale just adds his own. I think his breeding technique is almost perfected. But he really needs to stop messing with his cock once he pushes it back inside the ass.
I particularly like the part when when Zale pulls out, the cum comes oozing out of Truman's wide open ass. Hot stuff.
Preview video:
Click here to watch their entire video in HD quality at Chaosmen!
Chaosmen is a great porn site that features hot straight and bi men getting serviced or fucking their mates bareback for some cash. This site is exceptional and very unique because almost every single fucking is bareback and ends with a gorgeous internal cumshot or creampie.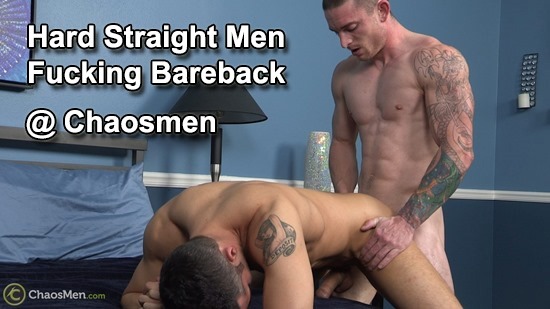 :anal sex, bareback fucking, big dick, Breeding, gay for pay, hairy chest, kissing, smooth chest, straight men, Swimmers Body, tattoos, Truman, Zale