by Ben Daniels (Admin) on Dec.25, 2015, under CMNM
Enrico's day has started quite roughly today – when he came into his office he was totally shocked to find out that some unknown men have seized his business equipment. Truth be told, Enrico has spent much more of his life in the gym than in the business school, and now the unpleasant effects of such choices start to become visible… Alas, if he had only learnt some basics about running one's own business this would never have happened! He is now in deep shit, with a big debt that hangs around his neck like a heavy stone.
These pervy and highly deceptive men are masters at taking advantage of situations like this one, and they keep putting pressure on Enrico, knowing full well that he's been driven into a corner and that they can do with him almost anything their perverted, sick imagination requires.
Enrico is a pretty hung dude, his cock is clearly visible through his white tighties, and one can even see the shape of his cock through them. Despite Enrico's wish to remain calm, his cock doesn't want to, and seemingly having a mind of its own starts growing and getting hard uncontrollably!
As Enrico's cock gets larger and stiffer, all his blood rushes down there and within minutes it's fully erect and pulsating like mad!
Check out these pervy men's wanton adventures in their whole videos in HD quality at CMNM.
Clothed Male / Naked Male (CMNM) is a superhot porn site where Nervous straight guys get stripped naked, groped and violated by fully clothed men.
There's nothing better than stripping straight lads completely nude, putting their bodies on display, and teaching them exactly how to submit! When they are in such a submissive position, one would be crazy not to use the opportunity and jerk them off!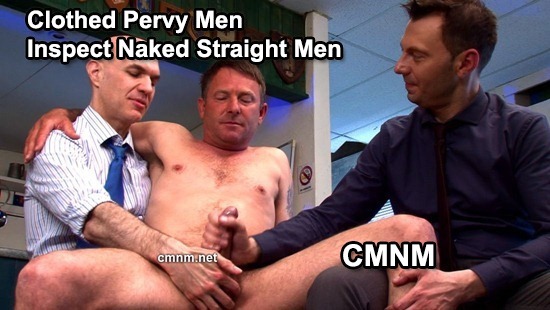 :big dick, debt collectors, Enrico, groping cock, huge biceps, inspected, muscled, pervy men, ripped, spontaneous erection, straight men, stroking cock, suit and tie, thick cock