by Ben Daniels (Admin) on Sep.13, 2019, under CMNM
Richard is a hot, studly and bearded man. He spends a lot of his time at the gym because he wants to stay strong and have impressively big and hard muscles. He's a tough guy who's always on the lookout for trouble, telling insulting remarks to other people and trying to start a fight so he can prove his masculinity once again. Nobody fucks with Richard… or at least he thought so.
And while winning a fist fight might be something he's really good at, his new job of a professional debt collector officer has proven to be much more demanding than he had anticipated previously. One has to have a fearless attitude, a strength of character and psychological stamina in addition to being physically strong. The nerves of steel are a given, as well.
Personnel officer Dave is in charge of testing the new debt collector officers and introducing them to the ins and outs of their new job. Dave is already keen on thoroughly examining this new meaty recruit. His main method consists of disarming the recruit of all of his clothes first, and then disarming him of his pride as well. The other handsome debt collector officer secretly ogles at what is happening to Richard. Will he join in the testing process? We'll find out in the next episodes… (to be continued.)
Check out these pervy men's wanton adventures in their whole videos in HD quality at CMNM.
Clothed Male / Naked Male (CMNM) is a hot porn site where Nervous straight guys get stripped naked, groped and violated by fully clothed men.
There's nothing better than stripping straight lads completely nude, putting their bodies on display, and teaching them exactly how to submit! When they are in such a submissive position, one would be crazy not to use the opportunity and jerk them off.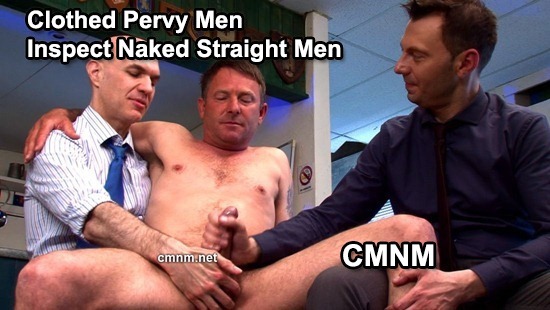 :beard, Big Arms, Clothed Men, Dave, debt collectors, examined by men, groping balls, hairy chest, inspected, muscled, naked men, police uniform, Richard, straight men