by Ben Daniels (Admin) on Dec.23, 2016, under HardBritLads
Most straight guys have an aversion to arse play, but as always in life, there are exceptions to the rule. Sexy young straight lad James Carter belongs to that latter group. He loves to play with toys and can take some pretty big ones. But we talked him into trying the real thing – a big fat cock and luckily he agreed! Ed Fox was all too happy to be of service and take care of James' eager ass with his massive 9-inch thick monster cock!
Ed is a sexy and very hung skinhead who loves experimenting with straight dudes. To begin the session, Ed puts some rubbing oil onto James' chest and rubs it in, going slowly towards his muscular legs. James' sports shorts are soon gone, and besides the sexy jockstrap we can also notice that James' butt is deliciously smooth and bubbly. Ed loves what he sees and continues to slowly massage James' butt, using lots of oil in the process.
James gets on all fours and Ed starts rimming his arse hole. This was the first time James experienced ass rimming in his life. Ed uses lots of saliva and pushes his tongue deep inside. Ed takes his time and takes really good care of that virgin ass. James stands up, his cock is by now totally hard, and Ed helps him to get rid of that jockstrap. Ed quickly swallows James' cock and starts sucking on it. Ed takes the whole thing without any issues, deepthroating his friend's dick. Ed then shoves his finger up James' ass crack, while still continuing to suck his cock. James pushes his cock deep into Ed's throat and face fucks him with gusto.
Ed's massive cock is fully erect and he slowly jacks it off while slobbering all over James' tool. Now James also wants to try swallowing Ed's cock, and considering it's his first time, he gets only a taste of it, without actually swallowing much. But here are the points for the effort shown!
Now the guys switch to the sofa and James kicks back on it while Ed strokes his cock, licks his ass and intermittently sucks his cock. Ed takes a big dildo, puts on some lube on it and shoves it straight into that straight ass! Ed fucks James' ass with the dildo slowly at first, swallowing his entire cock at the same time. Ed increases the pace and starts fucking James really hard while stroking his own cock at the same time. Now James is again on all fours and Ed gently puts his cock in his ass. James' butt doesn't seem to have any issues with receiving such a big cock, all nine inches disappear inside pretty quickly! When he's sure his partner feels good about his cock, Ed proceeds to fuck him faster and harder, pulling apart his ass cheeks and thrusting his cock more aggressively.
The guys change position, now Ed is above James, some kind of a "press ups" position, so that Ed's cock can penetrate James' ass better and deeper. The guys change position again and lie sideways, now Ed is holding James' leg up in the air and shoves his cock into his ass hard again. He uses long deep thrusts, and every time he pushes his cock inside he almost pulls it outside completely, so we can get a great view of his cock and its full length as well. Now James is on his back and Ed first teases him by rubbing his stiff cock against his asshole and then he rams it in. He begins to fuck him hard again, hard and fast fucking. James' cock is always hard and upright, as it's been throughout this whole fuck session. And by now he's very close to cumming. After having had his ass thoroughly fucked, James strokes his cock and shoots several strong squirts of jizz all over his hot hard abs. Ed also pulls out, takes off his condom, and shoots his thick creamy load. The guys are pretty exhausted by the end, lying there totally covered in their jizz, but it's a pleasant and happy exhaustion!
Preview video:
Click here to watch their entire video in perfect HD quality at Hard Brit Lads!
Hard Brit Lads is a relatively new porn site that features only the most masculine and well-built straight and bisexual guys showing off and fucking the shit out of each other. Videos are well-made and shot in HD. Don't miss out lots of amazing, manly men!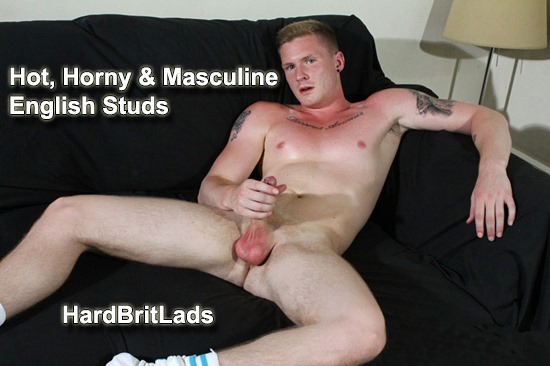 :aggressive fucking, big dicks, big dildos, blowjob, Ed Fox, huge cock, James Carter, rimming, shaved head, thick cock, Toys