by Ben Daniels (Admin) on Apr.25, 2016, under NextDoorRaw
Jack Hunter is all alone at his home, which he actually prefers to being with lots of people as he's mostly an introverted person, but today he's been exposed to some strange noises and occurrences in his house that made him feel uneasy and gave him the creeps.
His boyfriend's presence would be great at this moment, but alas he is still away at work. At one moment Jack thinks he saw someone on his property who shouldn't be there and he calls some security officer to investigate the matter. And whadoyaknow – this security officer is no other than big handsome stud Mark Long. Mark speaks softly and carries a big stick. Actually, that's wrong – Mark carries two big sticks: one in his hand and one in his pants!
Jack explains his worries and fears and while Mark is investigating the case he starts to suspect that maybe the whole thing might have been just some kind of ruse, and his suspicions are confirmed when Jack reaches out for his pants. Mark realizes that here he has a case of a lonely and horny gay dude who is in dire need of a protector such as himself. Well, who would have expected that? Mark pushes Jack onto the sofa with his nightstick and then whips out his main stick which quickly finds its way to Jack's wide open mouth.
Jack swallows that eight-inch dick like it was the most normal thing in the world and continues to suck it like a pro. Of course, he knows that his security and safety now depends on how good he can suck that cock! Little by little, Mark guides his cock into Jack's ass, bends him over and shoves it deep inside. Jack's cock is also quite big, and it slaps against his belly and bounces up and down while Mark is pounding his bare ass away.
Jack feels that he's quickly approaching the point of no return and begs Mark to turn him over and fuck him in that position in order to fuck the cum out of him. So Mark does that, his bare cock disappears completely into Jack's asshole with every powerful thrust. Soon enough Jack shoots his load in a pretty explosive and impressive way, and then Mark pulls out and adds his load all over Jack's sticky mess.
The two guys kiss each other and embrace passionately. Jack is happy with this officer's willingness to serve and protect, but now he's got a new idea for tomorrow: Jack tells his boyfriend that he should dress like a doctor, and Mark gives his wholehearted approval.
Preview video:
Click here to watch their entire video in HD quality at Next Door Raw!
As the name itself implies, Next Door Raw features some of the hottest hunks from Next Door Studios in raw action (no condoms). There are also some new guys that didn't appear previously on their sites, so check them out. The guys are pretty hot and masculine (mostly straight gone gay for pay), so the movies are usually interesting and hot to watch!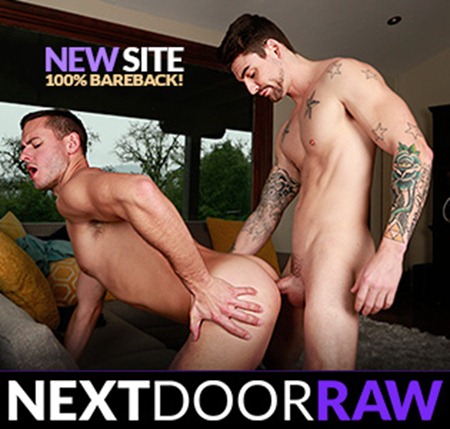 :bareback fucking, big dick, cop, embracing, fuck the cum out, Jack Hunter, kissing, Mark Long, nightstick, police jacket, police officer