by Ben Daniels (Admin) on Jul.29, 2017, under MissionaryBoys
Elder Garrett had been thinking about the future of his mission and he was not so sure what direction he should take. He had his own opinions about what he should do and these opinions differed from what his superiors and leaders were telling him to do.
While he attended the MTC, Garrett had an impression that unquestioned obedience was absolutely necessary for any aspiring young Mormon. He had a strong wish to succeed and be respected by his leaders. But then President Oaks did his secret calling thing and since then Garrett didn't know what was actually true: the official version or the secret version.
Every time when he participated in the rites on his journey of induction, the older Brethren would get him naked, fondle his genitals and eventually fuck his ass. Prior to those rites Garrett never had had sex with men, so this alone was perplexing and confusing for him. But at the same time he also found the sex with men to be very arousing and tantalizingly exciting. The carnal thoughts about being taken and used by these powerful muscular and hairy men were so strong that it was practically the only thing that occupied his mind.
So in this particular rite Garrett was brought into a basement of the temple, and then three men entered the room: President Oaks, President Nelson and Bishop Angus. He had mixed feelings about this: he was both terrified and excited…
Preview video:
Click here to watch their entire video at MissionaryBoys in full HD quality.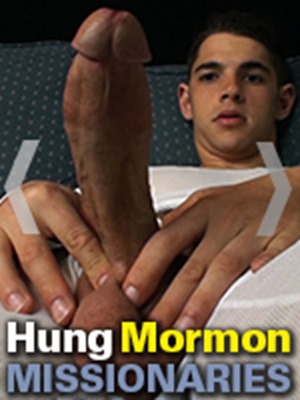 :
President Oaks