by Ben Daniels (Admin) on Oct.03, 2019, under CMNM
We've already seen the predicament that young footballer Paolo found himself in (chech it out here and here) when he was accepted to this Mancastle Football Club by the recommendation of his uncle. His uncle has had a definite influence on his decision to become a footballer, and his connections with The Mancastle were of primary importance regarding Paolo's acceptance.
However, as the luck would have it, Paolo's older uncle Dino is called by The Mancastle pervy for an inspection much like the one Paolo was subjected to minutes ago! They tell Dino it's either his physical inspection or the lucrative deal he's been having on his mind is a no-go. The pervy men touch and grope his cock until it starts growing hard uncontrollably. Soon enough, Dino's big dick is fully hard, but Dino feels utterly ashamed because he stands stark naked with an erection in front of his nephew Paolo! Little does he know that this is just the beginning and that these pervy men are just warming up!
Meanwhile, although he remains outwardly reserved, Paolo feels exhilarated that he finally has the upper hand!
Check out these pervy men's wanton adventures in their whole videos in HD quality at CMNM.
Clothed Male / Naked Male (CMNM) is a hot porn site where Nervous straight guys get stripped naked, groped and violated by fully clothed men.
There's nothing better than stripping straight lads completely nude, putting their bodies on display, and teaching them exactly how to submit! When they are in such a submissive position, one would be crazy not to use the opportunity and jerk them off.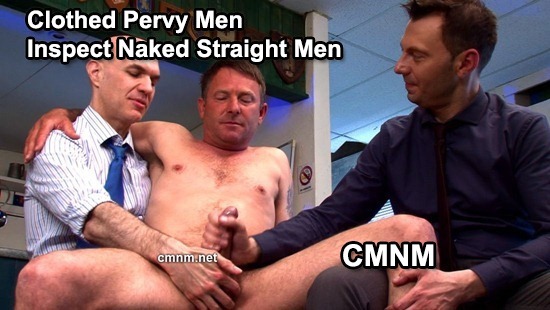 :big dicks, Clothed Men, fat cock, footballers, hairy chest, inspected, mature men, muscled, naked men, shaved head, spontaneous erection, suit and tie, The Mancastle, Uncle Dino