by Ben Daniels (Admin) on Jul.19, 2016, under CFNM
We've already seen in previous updates (here and here) how Ray found himself in an unpleasant position when he came to Jessica's office to seek employment benefits. He thought he could use his male charm to seduce her and her colleague, and get all the benefits for free. But, alas, Jessica knows his kind – she has seen through him and now demands that he start seeking employment actively. Which means, no sitting at home and going to bars and then expecting benefits. He has to show he's making an effort!
First, Jessica ordered Ray to get naked so she could examine the state of his body, whether he's healthy and how capable he is of various jobs that are potentially offered. Ray's cock suddenly decides to get hard, even though he didn't mean to. Ray has a weakness for sexy ladies like Jessica and his cock often misbehaves in the presence of such women!
Little by little, our not-so-smart friend Ray realizes that he's been set up from the very beginning! Now Jessica and her colleague have photographic evidence which could be very compromising. So she's got him by the balls, literally, and Ray realizes he must cooperate with Jessica if he's to stay out of trouble. Evil Jessica is extremely happy that she managed to con Ray so easily, and she enjoys in playing with his hard cock and forcing Ray to crawl on the floor and do other demeaning things!
Click here to watch their whole video in HD quality at CFNM (Clothed Female/Nude Male)!
Clothed Female Naked Male (CFNM) is a very hot site for lovers of truly straight guys. It's a little tongue in cheek but the men are really hot!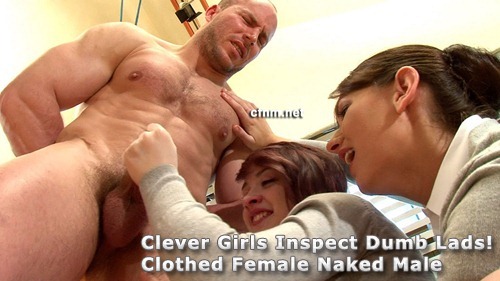 :Fingering Ass, handsome, huge cock, inspected, Jessica, muscled, Ray, spontaneous erection, straight men, thick cock, women inspecting men