Jacek is a new straight guy that appears on Chaosmen. He is still quite new, so it's no wonder that he refused to bottom. For the time being Jacek will be strictly a top.
I paired him with Vander, one of my most well-known studs. Jacek was a bit at a loss of words when the whole thing started. I think he couldn't believe that he actually was with another dude. Up to this point he has only been with girls.
I also think that Jacek was totally taken by surprise by Vander's huge cock. He just stared at it and I think he began to compare it with his own. Jacek also has a huge cock but it's not quite as big as Vander's.
Vander was totally into Jacek because he's turned on by studly masculine guys. And he probably liked the opportunity to be impaled on a big dick similar to his.
Vander begins to jerk off Jacek's dick. I am kinda sorry that Jacek didn't want to reciprocate (too gay for him?) because having Vander's massive weapon inside your mouth is one of the best things that can happen to anyone who is into guys.
Vander also proceeds to rim Jacek a bit and eats his ass like a pro.
Jacek began to fuck Vander without any hesitation. Jacek has fucked his girls in the ass and I suppose he uses the same technique on Vander: he spits on his cock and pushes it aggressively into Vander's ass.
I have to mention this: straight guys rarely want to bottom at first because they think it would hurt a lot. But when they fuck another guy they behave as if they are fucking a loose pussy and just hammer it away.
However, Vander adjusts in no time and soon enough he even encourages Jacek to fuck him harder. Vander's cock was rock hard while he was being fucked by Jacek and I had a feeling he could cum from just being fucked.
I think that part of the reason was that Jacek fucked Vander really well, hitting all the correct points and spots, especially when Vander was riding his dick. Jacek wanked Vander's massive dick for a bit and I really hope that he will have a change of heart soon regarding his role while having sex with guys.
As expected, Vander came from just being fucked and slammed hard by Jacek. His cumshot was copious and beautiful. Jacek follows by unloading his balls into Vander's asshole and pushes it back inside.
Short preview video: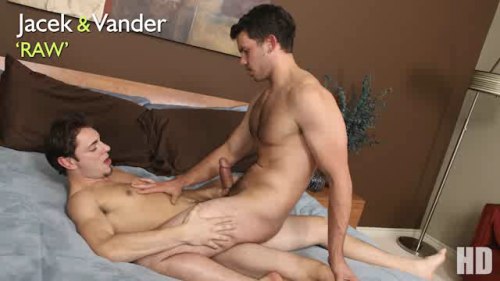 Click here to watch their entire video in perfect HD quality at Chaosmen!
Chaosmen is a great porn site that features hot straight and bi men getting serviced or fucking their mates bareback for some cash. This site is exceptional and very unique because almost every single fucking is bareback and ends with gorgeous internal cumshot or creampie.