Last time we had Marxel Rios he expected to get some pussy but instead got some dick. Well, he was furious and told us that he wouldn't work with us anymore. Caruso called him to see if he would do a second video, and frankly he expected that Marxel would hung up, but instead he was all for it. So you see, you gotta be a little patient with these feisty straight guys, eventually most of them turn around and are happy to do more gay stuff on the camera – providing the money is right.
But with Marxel I think it was something more than just the wish to get more money. I think that this bad Latin boy is discovering his own bisexuality. He told me that he gets horny when thinking about another dude with big muscles and manly face – something like Jake Taylor. That gives him a hard-on immediately.
Jake Taylor has had almost the same experience with guys. At first he thought that he would be banging girls but instead we sent several cocks his way. After the initial shock he kinda got used to working with guys and now I think he looks forward to experimenting with cock.
Caruso thought it would be a perfect match to pair Marxel Rios and Jake Taylor in Jake's dorm room. Jake has become bigger and more muscular than ever and I was really looking forward to seeing this guy drill some man ass. Jake Taylor now looks like a studly rock star, with that long blond hair and three day beard he is just irresistible. Perhaps he reminds me somewhat of Tina Turner's supersexy sax player Tim Capello.
So we left these two studs to suck each other off and then fuck till they pass out. I think the pictures and videos tell it all.
Preview video: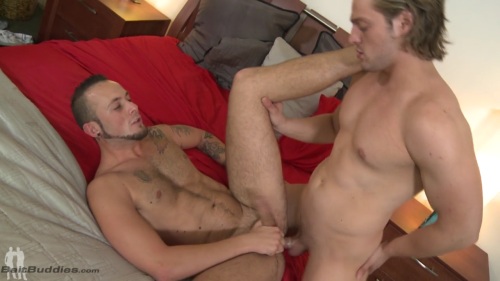 Click here to watch their complete video in HD quality at Bait Buddies!
Bait Buddies is a pretty hot straight guy site with plenty of updates and some very hot guys indeed. There is always a "bait" dude who is bi or gay, and a "straight" dude who needs to be seduced into gay sex. Clearly this is usually staged, but it's pretty hot neverth