by Ben Daniels (Admin) on Oct.25, 2016, under CMNM
As we've already seen in the previous episodes (e.g. here, here and here), the Pervy Headmaster is totally in his element while inspecting his students around the facility he manages. He and teacher Mr. Walker have now focused their attention on young handsome Russian exchange student Dubrovski, whom they blame (allegedly) for having unallowed tattoos. Of course, that's only an excuse to check out his hot lean body, ass and cock. They couldn't care less about him having or not having the tattoos.
So, after having examined his hot ass, and even spanked it a little, the pervy Headmaster and teacher Mr. Walker start inspecting Dubrovski's cock, which quickly gets fully hard, despite Dubrovski's attempts to forestall it. Alas, all those hands on his body and cock have had the exciting effect on his male member and he was unable to do anything about it. Now the pervy men want to get a sperm sample from Dubrovski, and little by little they manage to squeeze out a nice, healthy amount of jizz from his balls. Dubrovski feels utterly awkward while standing totally naked in front on all these clothed men, with his cock in full erection and his jizz slowly dripping down from his cock. The pervy Headmaster is satisfied with Dubrovski and lets him go, but he's already eyeing a new source of excitement: sexy lad Craig Smith.
Check out these pervy men's wanton adventures in their whole videos in HD quality at CMNM.
Clothed Male / Naked Male (CMNM) is a hot porn site where Nervous straight guys get stripped naked, groped and violated by fully clothed men.
There's nothing better than stripping straight lads completely nude, putting their bodies on display, and teaching them exactly how to submit! When they are in such a submissive position, one would be crazy not to use the opportunity and jerk them off.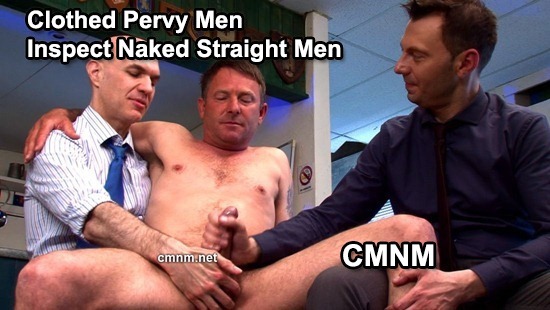 :big cumshot, big dick, Clothed Men, Dobrovski, inspected, lean body, masturbation, Mr Walker, naked men, pervy headmaster, Russian men, Sperm Sample, suit and tie