by Ben Daniels (Admin) on Feb.10, 2017, under CFNM
Carl has been having a lot of "issues" with some terrifying female doctors and her assistants lately, and his predicament is not over yet (we will explore his ordeal in some later episodes). Meanwhile, Carl's father Michael Bagshaw is having almost identical problems with a certain Cassy, who uses his son Carl as bait!
While Cassy assures Michael that she's the Headmistress of this school, Michael has his doubts. Michael doesn't like to see dominant women who give out orders. All his life he has been the one who is always in charge of things, and this reversal of roles is definitely not his cup of tea!
But Cassy and her assistant Barbara are having a field day and insist that Michael needs to lose his excessive office clothes and show them the goodies. These women can smell a handsome man from kilometers away and they know Michael is a hottie that needs to be explored naked.
Click here to watch their whole video in HD quality at CFNM (Clothed Female/Nude Male)!
Clothed Female Naked Male (CFNM) is a very hot site for lovers of truly straight guys. It definitely has "a tongue in cheek" quality to itself, and both the men and women are really hot!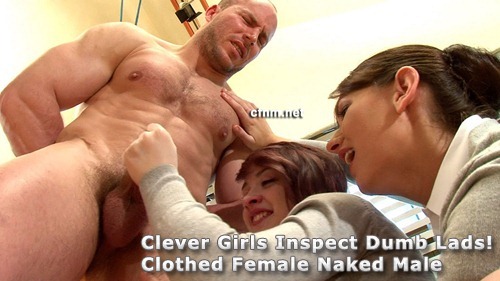 :Barbara, Big feet, Cassy, daddy, handsome, Michael Bagshaw, muscled, naked men, office suit, suit and tie, women inspecting men