Big Dick Derek has always been one of the most popular studs to appear on Islandstuds. And now he's back for the 7th time to show off his fantastic masculine body, that huge 8-inch hard cock and to fool around the garden as usual! There's a particular charm about this stud: he's very friendly, very masculine and quite talkative as well. He hails from Colorado and is the youngest of the 4 brothers. All of the 4 brothers work as arborists (tree trimmers).
Derek is 29 now, he is a tall guy standing at 6'2" (188 cm) and weighs in at 210 lbs (95 kg). He was again in the mood to tell us many of his personal stories. For example, he says he discovered he had a big dick while showering with his football teammates back in High School! It's so refreshing to listen to this open, heartwarming and honest masculine man.
It's worth noting that Derek's video with his roommate Tony is still one of the most wanted and watched videos on the site. Derek recruited his roommate Tony and brought him to Islandstuds. The two guys had a blast jerking off together. You check out the preview of that video if you click here.
Derek is still one helluva hunk with strong bulging muscles, 8-pack abs, amazing biceps and that very inviting muscular butt he got while playing football and from working as an arborist, climbing and trimming trees. Derek brought his new sexy c-thru back mesh underwear and wanted to show us how it looks on him! We always love to watch his huge erect while he parades with it through the garden. He takes off his clothes and then suddenly lets us know that he must take a pee. Through that large slit on his big mushroom head cock a large and wide yellow stream of pee gets released… while he's holding down his mesh c-thru undies! That was a pretty long pissing, and he released a lot of pee, and it's also – hands-free.
Wanting to be fully in the Aloha Spirit of the Islands, Derek puts on a Kukui Nut Lei and a Hawaiian Grass Hula Skirt and starts to work on his thick stiff 8-inch cock. Always smiling, Derek poses as a Hawaiian Hula Fantasy Dancer! Damn, where else can you find such a dancer?! The whole image is just so bizarre and hot at the same time while Derek's monster cock is sticking out of his grass skirt.
Derek then starts explaining all his work gear, what it's used for and so on. He puts on his thick leather tree trimmer "Saddle" on spikes on his boots. This served as a convenient intro to the erotic naked tree trimming session that was soon to follow in this Hawaiian forest. "I love putting my Saddle on naked", says Derek with a big smile on his ruggedly masculine face. It's worth mentioning that Big Dick Derek is the most popular model in the notorious "Naked Worker Series". This is the 5th time that Derek demonstrates to us what he usually does at work: climbing and cutting down tall trees. And for these occasions he is totally nude, as well!
The camera catches Derek's amazing muscular butt and his big balls dangling from his saddle while he climbs a 70-inch tall tree. His butt cheeks often open wide and Derek doesn't care one little bit. He actually wears only his gloves and safety glasses, even though he knows it's a dangerous thing to do.
"I will be YOUR Fantasy if you want ME to be!", Derek shouts to the camera, 60 feet off the ground, while flexing his biceps and giving us again his great smile. Completely drenched in his own sweat, and with his cock and body sprinkled with sawdust, Derek comes down from the tree and starts showing off his dirty body for the camera. He unapologetically removes his thick leather work boots and socks while continuing to tell us about his nudist tree trimming adventures.
He goes for a quick shower to wash off all that sweat and dirt from his masculine body, and then he sits down in a convenient place in the garden to show us how he strokes his amazing dick. We didn't have to wait too long for that dick to become hard and stand in its full 8-inch erect glory! Derek definitely enjoys showing off, he's got that exhibitionist streak in his character, there's no doubt about it. He keeps flexing his biceps and posing naked with his erect cock that points to the sky.
He puts on again Hawaiian Kukui Nut Let and Holiday Santa Hat for some additional photos that the director wanted to make. How would you like to have a Santa like this visit you soon? What kind of presents would you like from such a naughty Santa, hmm?
Derek proceeds to stroke his cock, and he puts on a great jerkoff session show. Nothing better than watching a hot ripped straight guy working his huge stiff cock, and at the same time enjoying the fact that he's in front of the camera. Derek is pretty famous for his intense and copious cumshots, and this particular cumshot was caught on video with three different cameras from different angles. When he reaches the point of no return, several powerful streams of jizz blast out of his big cockhead and splatter all over his hairy stomach, chest, and also Kukui nut lei around his shoulders gets sprinkled in the process! Damn, that was a truly powerful cumshot!!!
He is still sweaty and now covered in his own cum. He stands up for some more photos while the cum is dripping off his perfect abs and his humongous cock. He then heads straight into the outdoor shower stall to wash off all that sweat and cum. To illustrate us how he used to take a piss in the locker room showers in the presence of his teammates back in his High School days, Derek unleashes yet another strong pissing shower while lathering up his chest and neck. This confident masculine stud is definitely not shy to show us his body and his everyday routines, no matter how "outrageous" they might seem to some. That was a great video, Derek, and we hope to see you soon again!
Preview video: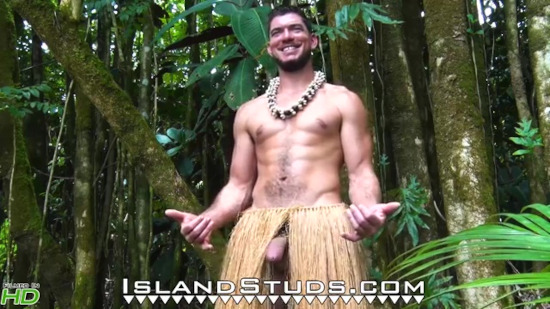 Click here to watch their entire movie in HD quality at Island Studs!
Island Studs is a great refreshingly different and characteristic porn site that features hot guys from Hawaii. These bad boys have no problem with showing off their beautiful, toned body and hard cock. Watch them as they do their usual chores against the stunning backdrop of Hawaiian nature!