Hot straight twink-soon-to-be-jock Cooper definitely digs porn – after his first few appearances he decided that showing off his hot body and stroking his huge fat cock for an unknown audience is totally cool. Even before his pants were removed (as you can clearly see for yourself on this video preview), Cooper's cock is visibly hard and protuding through his jeans!
Our old mature friend Brendon tells Cooper that it would be wise to get rid of those jeans… after all, they're only covering that beautiful huge hardon… which we all want to see, and enjoy watching. And of course, the 25-year-old straight dude concurs… the jeans are gone and his amazing stiff hard prick stands at full attention. Brendon wouldn't be what he is if he didn't engage in seducing these innocent straight guys… so he proposes that Cooper should try experimenting with a black stiff dildo toy. After all, his ass is so innocent and virginal, it would be fantastic to see if that black toy can cause some changes down there…
Sure enough, Cooper obliges and starts experimenting with the black toy and his tight virgin ass… the dildo didn't get into his ass at the first try, but a bit later it gives in and the entire artificial dick penetrates that straight ass. Brendon is totally fascinated with Cooper's huge fat straight dick, and can hardly think of anything else!
Cooper slowly continues to stroke his cock, edging himself for a very long time and then finally he shoots a great load all over himself. Damn, that was worth waiting for!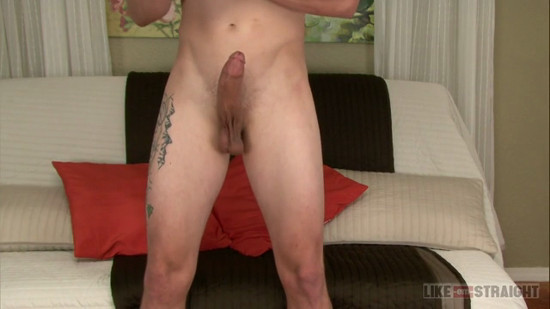 Click here to watch his entire video in HD quality at Like-Em-Straight!
Like-Em-Straight is a porn site that features real straight guys that come to jerk off for some cash. The farthest these men will go with another man is to let him suck his cock or get a handjob, but most guys just want to jerk off. The site is made by the same authors as Bait Buddies so you can be sure there's some quality jerkoff material inside. Most of the men I've seen inside are really hot and manly, and I'd venture to say that most of them are really straight.