by Ben Daniels (Admin) on Mar.02, 2016, under All American Heroes
It's no big secret that military guys talk often about sex. Of course, when they're all together or in bigger groups all the sexual talk is strictly heterosexual and it's always about pussy and chicks. But just wait until there are only two guys, and the talk often becomes much more sincere. Of course, many military guys are indeed heterosexual, but as it is the case with all men, things are rarely so black and white and even hetero guys sometimes have gay fantasies or thoughts. When only two guys can openly talk about sex without fear of putting their hetero image in jeopardy, one quickly finds out that yes, even heterosexual men can be turned on by other guys in different ways and to a different extent. Sometimes it's just a fascination with the other dude's amazing physique, sometimes it's more sexual, but whatever the case it doesn't necessarily mean that these men have become gay. They're just being normal, curious, sexual men whose sexual energy flows sometimes more towards women, sometimes takes a little detour towards men. Nothing unusual about that.
So when we put these two troopers together, we weren't surprised one little bit to find out that they shared some common interests. For instance, Dane just couldn't ignore his buddy's big bulge in his military pants and kept ogling at it from time to time. To break the unpleasant silence, Dane put on some porno on DVD and within minutes both guys were stroking their hard cocks. Dane's uniformed buddy's eyes were also glued to Dane's stiff fat cock, and little by little his hand approaches then grabs Dane's manmeat. As Dane's buddy told us later, it was one of those things where he "just let it happen", without thinking about it too much. Dane's buddy then made the next logical move and swallowed Dane's cock. Dane's hands automatically grab his buddy's head and guide him down onto it. Dane face fucks his friend's mouth, then pulls it out for a moment and slaps his buddy's cheek with his hard stick – priceless. It seems his buddy appreciates this and even wants more.
Dane's buddy also devotes due attention to Dane's big balls and chews on them for some time before going back to Dane's cock. He swallows Dane's entire shaft once again. Even Dane's still virgin hole got a thorough tongue job from his buddy. Then Dane stands up and face fucks his friend's mouth and throat in that position for a while. Dane's uniformed buddy has a full mouth and throat of his hard cock and is more than happy to be of service. Dane puts his hands on the back of his friend's head and guides his head once again, essentially face fucking him. Slowly but surely Dane approaches the point of no return and soon enough he pulls out and shoots a nice big load all over his buddy's wide open mouth, face and neck!
Preview video:
Click here to watch his entire videos in HD quality at All American Heroes!
All American Heroes is a very cool military site with all kinds of uniformed men (firefighters, military men, lifeguards etc.). It's an unmatched and unavoidable destination for all lovers of hunky, hot uniformed guys who like to blow their loads and fool around with their buddies.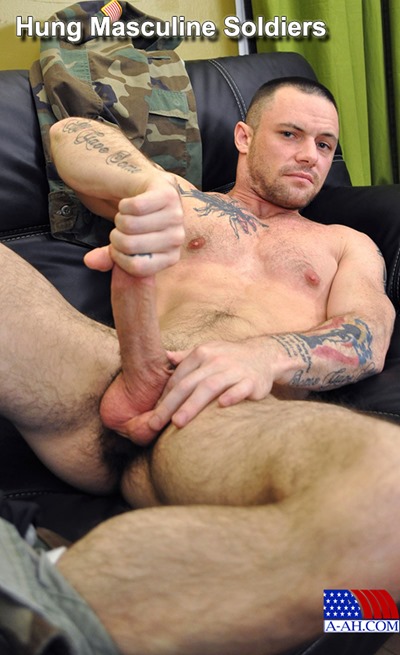 :big dick, blowjob, Dane, experimenting with guys, face fucking, facial cumshot, gay for pay, handsome, heterosexual, jerking off, military boots, military men, military uniform, Serviced, stiff cock, straight men, tattoos