Today we are going to revisit one of those classic blowjob videos from NewYorkStraightMen (and in this case, also a fuck session is included).
After having sucked so many straight cocks lately, resident cocksucker Sean was eager to get his tight ass fucked by one of the straight men that come to get their cocks serviced. Sean was really horny and wanted his round furry ass drilled really hard and deep.
Luckily, former military man Michael was around, and the director thought that he would be the perfect match for the job! (You can check out a couple of Michael's other appearances here and here.)
Michael is a ripped, hairy and masculine man who is very passionate about his blowjobs. He's considerate and tender, but can be dominant and aggressive, as well. He told us that he had deflowered many a young virgin girl in his time. And Sean complained to us that the last time he received a cock in his ass was almost a year ago, which made him essentially a virgin again! Michael started off slowly and tenderly,  and then he fucked Sean really fast and hard!
Michael had volunteered to be a co-director in this production, and the main director didn't want to interfere much. This was going to be Sean's and Michael's story, and it was best to leave it to them. We knew it would be a sweet, but also a nasty story!
Towards the end, when Michael was about to shoot his load, he lay down on the mattress and let Sean suck his cock and play with it until he came. Michael shot a huge copious load, with many nice squirts! One thing is for sure – Sean has earned it!
We made sure to include quite a bit of this classic blowjob and fuck video in the EXTENDED PREVIEW VIDEO below, so if you like these NYSM blowjobs, you should definitely check out the entire video at their website.
EXTENDED PREVIEW VIDEO: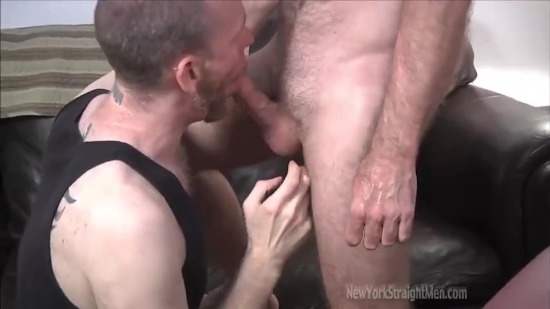 Click here to watch their entire video in HD quality at New York Straight Men!
New York Straight Men is the world's biggest collection of straight men getting their blowjobs from gay dudes! These men are usually truly straight but they love getting head from a gay guy because it feels so much better than whatever their girlfriends can do. These men are not the Hollywood type cuties, they are Real Men!