by Ben Daniels (Admin) on Sep.06, 2013, under Brutal Tops
The scene begins with Master Dave and Master Mike dragging their new lowly sub boy called Jonah. Masters are wearing their army uniforms and combat boots, which they often use to humiliate and train this new poor sub. The boy is taken forcefully to the floor and his clothes are removed so as to enable the Masters easier access to his body.
The poor sub is now made to lick and kiss their dirty boots, then the Masters order him to remove their boots and smelly, sweaty socks. The cruel Masters push their big, bare sweaty feet onto sub's face, forcing him to worship them. The Masters remove their own trousers and the sub boy is now forced to push his entire face into their assholes. We can see how reluctant he is, but he is simply overpowered and has to obey the Masters.
Master Dave suddenly gets a new idea – he takes a buttplug and shoves it into the sub's ass, adding a few kicks as a reminder who's in charge there. Then both Masters piss all over sub's body and thus the sub's first lesson in  obedience is complete – the new sub is properly initiated into his new role.
Preview video:


Download this one and many other horny new BDSM videos at BrutalTops!
Brutal Tops is a fantastic site for lovers of the most ferocious sexually aggressive doms in the world. These dominant men love to give orders which have to be obeyed!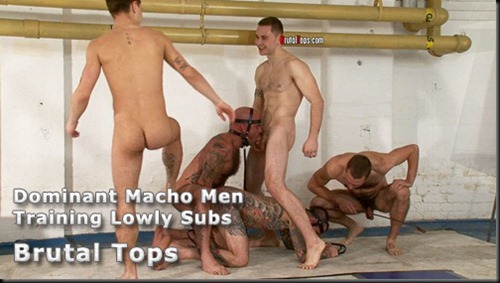 :Big feet, buttplug, combat boots, humiliation, Master Dave, Master Mike, military uniform, pissing, sub boy, submission