by Ben Daniels (Admin) on Jan.29, 2018, under New York Straight Men
Let's check out yet another one of those classic NYSM blowjob videos from not-so-distant past. In other words, another "blast from the past" video.
This one is with Johnny the Long Island Surfer. Believe it or not, it was hard to persuade Johnny after his solo jerkoff video to allow a male cocksucker to service his cock. It took several months of hard negotiations and then Johnny finally agreed to the proposal.
Ben was a natural choice for such an important job, and besides that Ben was totally horny and eager to suck a straight cock. You can clearly see that as soon as he swallows Johnny's cock for the first time, he can hardly let it go. Johnny was also very horny and needed a blowjob as soon as possible. The pent up load in his balls was a bit too much to endure and Johnny needed a much awaited release.
Well… Johnny thought that getting blown by a guy was odd and somehow foreign, but luckily Ben knows a lot about the art of professional cocksucking and he made Johnny feel comfortable in no time. Namely, Ben knows a little trick that works for all straight men, and that is his little secret to make his mouth feel like a velvet pussy to the straight guy he's servicing. Johnny almost melted when Ben applied his secret technique and his cock was nicely hard and throbbing.
Johnny was a bit dominating towards Ben, guiding his head onto his cock as he deemed appropriate. Johnny likes to think of his cocksuckers as "live fleshlights" and he loves to face fuck. When the built-up cum was about  to explode, Johnny shot a HUGE load with several big squirts all over himself and Ben's face.
Make sure to check out the EXTENDED PREVIEW VIDEO in this post because we've made sure to include quite a bit of this amazing blowjob in it.
EXTENDED PREVIEW VIDEO:
Click here to watch their entire video in HD quality at New York Straight Men!
New York Straight Men is the world's biggest collection of straight men getting their blowjobs from gay dudes! These men are usually truly straight but they love getting head from a gay guy because it feels so much better than whatever their girlfriends can do. These men are not the Hollywood type cuties, they are Real Men!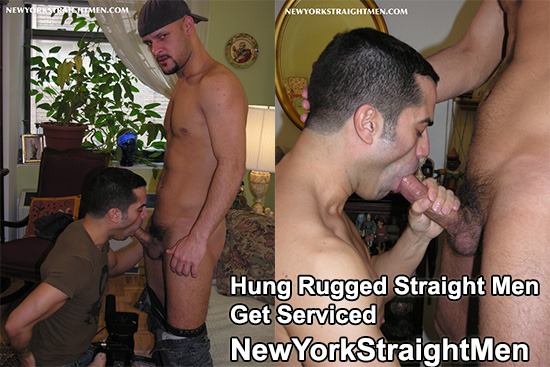 :Ben, big cumshot, big dicks, first gay blowjob, hairy chest, Johnny the Long Island Surfer, muscled, resident cocksucker, Serviced, shaved head, straight men, thick dick