by Ben Daniels (Admin) on Jun.01, 2018, under New York Straight Men
Today we are going to revisit one of the best classic blowjob videos on NewYorkStraightMen – with one and only Italian pizzeria man Tony!
On one Sunday afternoon Tony sent a message to Newyorkstraightmen, asking if they were going to have a good cocksucker nearby. As luck would have it, they did – actually Trey was just servicing another guy at that moment. Tony texted back and asked them not to let the cocksucker leave, because he needed one pronto!
Cocksucker Trey had heard about Tony and immediately said that he would put his plans on hold and wait for Tony to suck him off. It was a Sunday, and Tony had a day off from the family pizzeria, so he arrived pretty quickly. And as you would expect, he dropped trou as soon as he walked in.
Tony said that he had gotten a blowjob from a girl he was dating, but he says it was a total disaster and not worthy of the name blowjob, so now he needs a great blowjob in order to push the bad one out from his memory! Tony says that it's such a pity that's such a hot girl doesn't know how to suck cock properly, and added, "if she can't suck he' ain't gonna waste his time."
It was pretty much impossible to detach Trey from Tony's huge cock: as soon as he saw it, he was drawn towards it like a magnet. And thankfully, the bad blowjob memory was successfully erased!
Make sure to check out the EXTENDED PREVIEW VIDEO in this post because we've made sure to include quite a bit of this great blowjob with always horny, mega-hung Pizzeria guy Tony in it for your viewing pleasure.
EXTENDED PREVIEW VIDEO
Click here to watch their entire video in HD quality at New York Straight Men!
New York Straight Men is the world's biggest collection of straight men getting their blowjobs from gay dudes! These men are usually truly straight but they love getting head from a gay guy because it feels so much better than whatever their girlfriends can do. These men are not the Hollywood type cuties, they are Real Men!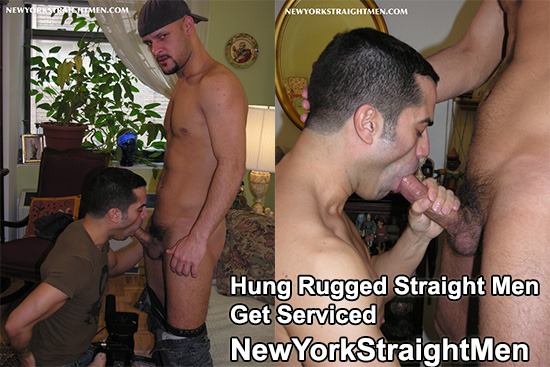 :big dicks, blast from the past, blowjob, cocksucker Trey, Extended Preview Video, facial hair, hairy chest, Italian men, monster cock, Serviced, straight guys, tall guy