Today we feature two young lads from England – Tim and Chris.
While they are probably not really rough (because they're so cute and young) they are both masculine and handsome, I can bet all the girls automatically fall in love with them as soon as they see them.
Tall and tattooed Tim is a young lad from west England. He has blue eyes, cute smile and nicely toned, hairy masculine body. I was really pleasantly surprised when he dropped his pants. His body is covered with just the right amount of hair and looks great that way!
Tim also has a rather big soft dick, it really protuberates from his boxers. But as soon as he started to play with it, it grew to its full size, which is 8 inches (20 cm) and almost 7 inches in circumference!  That is defo one big and thick cock on this young fellow!
When it gets hard, Tim's cock goes straight up and points to the ceiling, just like a space rocket on its launch pad.
Tim enjoys showing off his naked body. After some time he takes his cock in his hand and jerks off until he shoots a nice load all over his six pack abs.
***
Chris is a personal trainer. He's also a young lad, with a very cute, handsome face. He is only 18-years-old but due to his well-defined, muscular body he looks like he is 20 something. All that bodybuilding has given him a lot of confidence and security in the way he behaves in front of other people and especially when he has to show his naked body.
In the second part of this year Chris plans to enter a bodybuilding competition. He thought about today's show as a prelude to that competition so he had no problems showing us everything he got. Eventually he grabbed that piece of man meat that was dangling between his legs, and it gets hard in no time.
I told him to let me stroke his cock for a while and in just a few seconds I had that beautiful male organ of his in my hands. Don't be fooled by his cheeky smile and carefree attitude, this young lad is a horny motherfucker and is open to various experiments. For example, he had heard that guys can wank or suck your cock better than you or your girlfriend can. So he wanted to test the first thing by letting me stroke it for him.
Eventually, he took over and stroked it until he shot his load all over his boxers.
Tim
Chris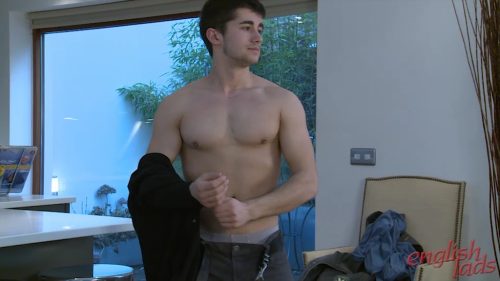 Click here to watch Tim & Chris' entire video in perfect HD quality at EnglishLads!

English Lads is a fantastic site with loads of very manly, straight lads from England who love to show off and jerk off for the camera. All movies are in HD quality.